International Women's Day 2021 at NIESR: Professor Diane Coyle
The theme for International Women's Day (IWD) 2021 is #ChooseToChallenge, asking us to "Celebrate women's achievement. Raise awareness against bias. Take action for equality.".

Post Date

Reading Time
4 min read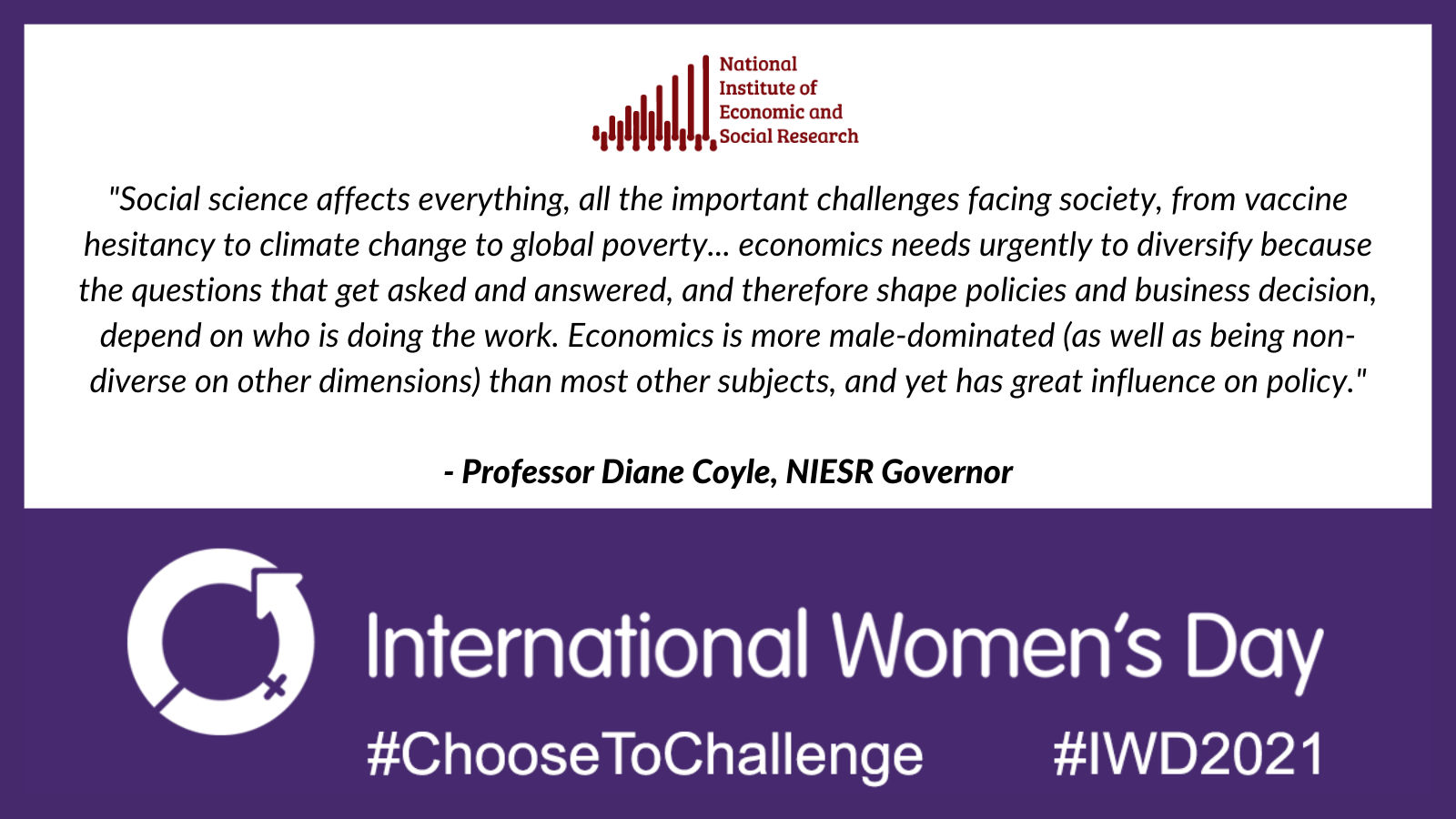 The theme for International Women's Day (IWD) 2021 is #ChooseToChallenge, asking us to "Celebrate women's achievement. Raise awareness against bias. Take action for equality.".
To celebrate IWD at the National Institute of Economic and Social Research (NIESR), we are publishing a series of Q&A blogs written by women at NIESR to explore various topics to celebrate their achievements, including the challenges and barriers they have overcome. We hope these blogs raise awareness against bias and encourage us all to take action for equality.
Professor Diane Coyle is the Bennett Professor of Public Policy at the University of Cambridge, and a NIESR Governor. Diane co-directs the Bennett Institute where she heads research under the themes of progress and productivity, and has been a government adviser on economic policy, including throughout the covid-19 pandemic. Her latest book, 'Markets, State and People – Economics for Public Policy' examines how societies reach decisions about the use and allocation of economic resources.
Diane is also a Director of the Productivity Institute, a Fellow of the Office for National Statistics, an adviser to the Competition and Markets Authority, and Senior Independent Member of the ESRC Council.
What barriers have you had to overcome in your career?
The biggest challenge has been without a doubt managing a career and motherhood. As well as taking maternity leave, it was still very much the case when I was younger that the expectation (mine as well as my husband's) was that I would be responsible for organising child care, dealing with emergencies and holidays and so on. I'm also certain that some of my managers at the time saw women, especially mothers, as being less ambitious and less reliable. The situation has improved in theory – for example, there is far more paternity leave now – but it doesn't seem to be taken up very often. This is an area where employers could do much more to enable women in their organisations to get to senior roles, and policies could make the inevitable juggling of the challenges of parenthood easier for all parents.
What are some of your key career highlights?
I'm lucky to have had a varied career, from journalism to private sector to public service to academia, and have learned a lot in each phase. I greatly enjoyed being a Competition Commission (CC) member, learning in a range of merger inquiries about how the markets economists write about have worked in practice. It was also a privilege to work with two distinguished economist chairs of the CC, Derek Morris and Paul Geroski. Competition policy is fascinating because it gets you into the detail of markets. As I've been writing about the digital economy for 25 years now, it was fascinating to be a member of the UK's Digital Competition Expert Panel. I'm now equally enjoying working with the Competition and Markets Authority as an academic adviser. Now I'm working in a university with great colleagues and students, and having the chance to work across disciplines, and learning a lot again. 
What advice would you give a young woman who is considering a career in economic or social research?
Do it! Mostly because there is nothing more interesting and important. Social science affects everything, all the important challenges facing society, from vaccine hesitancy to climate change to global poverty. Secondly, economics needs urgently to diversify because the questions that get asked and answered, and therefore shape policies and business decision, depend on who is doing the work. Economics is more male-dominated (as well as being non-diverse on other dimensions) than most other subjects, and yet has great influence on policy.
How can we overcome barriers to achieving gender equality?
There are plenty of things those of us in the profession already can do. Role models matter. Getting information to pupils making subject decisions in school is important – that economics is about crucial social issues, not just money; that maths A level is needed for most university courses. Much good work is under way on getting the word out, including by NIESR and the Royal Economic Society. There has also been a lot written about the culture of economics, particularly in academic departments, so senior male economists need to be committed to supporting their female colleagues and tackling examples of excessive aggression.