The real million dollar question is 'Would wages fall if the National Minimum Wage were scrapped?'
The National Minimum Wage (NMW) has been operating since 1999, with the objective of combating exploitative pay, and the National Living Wage (NLW) since 2016 to raise wage levels more widely for workers aged 25 and over.

Post Date

Reading Time
6 min read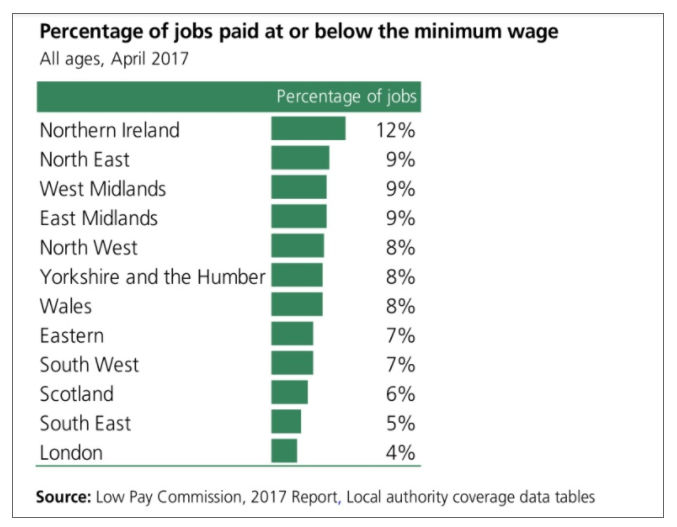 The National Minimum Wage (NMW) has been operating since 1999, with the objective of combating exploitative pay, and the National Living Wage (NLW) since 2016 to raise wage levels more widely for workers aged 25 and over. NIESR research for the Department for Business, Energy and Industrial Strategy (BEIS), published today, examines the 'counterfactual' – looking at how what would have happened to wages in the period from 1999 if minimum pay rates had not been established. The research also looks at how, in practice, employers set wages and asks what they would do if the rates were withdrawn or frozen. This was a theoretical exercise; there is currently no such proposal and the rates have support from all political parties.
Through interviews with 17 employers, employer bodies and trade unions, including some high street names as well as SMEs across the low paying sectors of hospitality, social care, food and drink processing and retail, we found general support for the objectives of the rates. At the same time, costs of paying the minimum rates are high: each annual increase adds millions to the wage bills of large companies. So what would happen if the rates were withdrawn? Would it set off on a race to the bottom, or would employers continue to pay them, in support of their objectives? Might competitive pressures even lead to an uphill race? Let's look at what they do and what they say.
Employers in low paid sectors use the minimum rates to benchmark pay
Only seven per cent of jobs in the UK are paid at the minimum wage but many more are paid slightly above, because employers in some sectors compete for low skilled workers who often move jobs for relatively small increases. The table below shows how the ten case study firms used the minimum rates. They made little use of age rates but some paid higher regional rates, largely in London and the South East. They either paid sections of their workforce according to the rates, or benchmarked the pay of other low skilled employers against them. And they are always aware of rates offered by rival employers across sectors.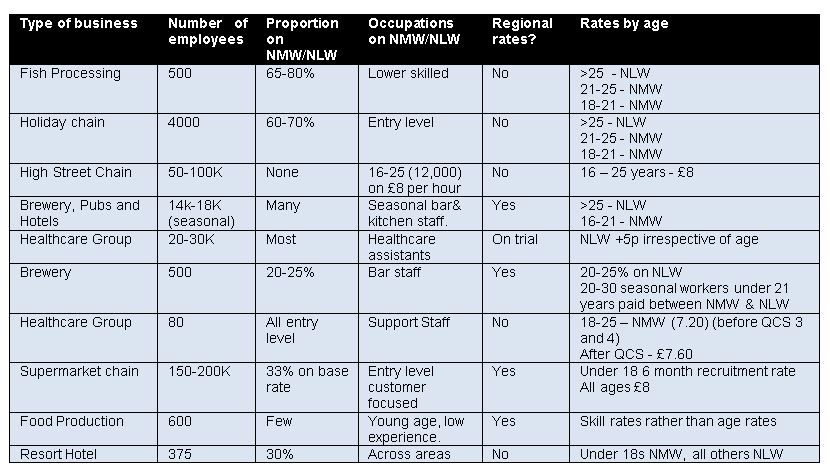 Why do employers pay above the rates?
To understand why employers might reduce rates of pay, it's instructive to look at they pay above the rates, even when work is unskilled. They do so when labour markets are tight – when there are more jobs than workers; at busy times of the year and when demand fluctuates. They also pay slightly higher rates where they want to hire workers of higher quality, in terms of experience and attitude than would be possible by offering the lowest rates. These conditions are most common in low paid sectors in London and the South East. In contrast, we found employers located elsewhere and in areas of higher than average unemployment less inclined to offer any kind of uplift from the rates except at very busy times. And here's where some employers qualified their support for the minimum rates: they felt that rates should vary according to local labour markets, and according to variations in costs of living. The manager of a Brewery and Pub Chain in the South West argued:
 'It's a darn sight more expensive to  live in London that it is down here or in Wales, but it's the same National Living Wage'
And this was seen as wrong by employers operating outside of London and the South East or with branches across the UK. The table shows a number of employers, including a supermarket chain, operating regional rates of pay, largely consisting of uplifts for employees in these locations. The following table shows the rates are regional differences in pay at or below the NMW.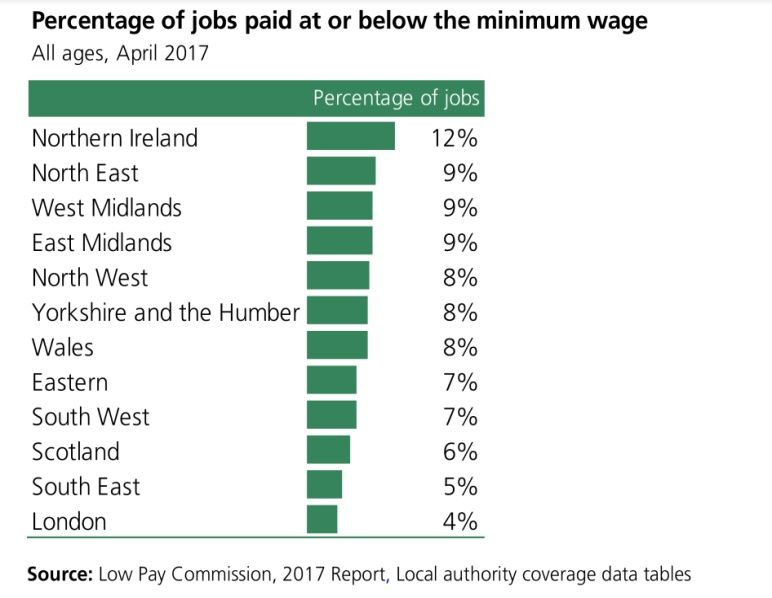 Employers would see who makes the first move
We asked employers whether they would reduce pay if the rates were withdrawn. An employer in the social care sector expected to cut pay but a more common response was to expect to freeze rather than reduce pay, or make only small increases. Most said that they would wait for competitors to make the first move, and employers in retail and social care anticipated that this would happen. This was not a scenario which they necessarily welcomed, with some expressing the view that it would lead to a low pay, low spend cycle which would damage the economy.
Some employers were also acutely aware that employees are also customers – as an employer in the hospitality sector in the East of England reasoned:
'Our business will only be as healthy as the communities they are in and if people haven't got disposable income they are not going to eat in our pubs and eat in our restaurants.'
Any impacts would be regional
But however much employers might want to offer attractive pay packages and enjoy a reputation as a fair employer, they see these as challenging and uncertain times. And the pressures which lead employers to pay somewhat above minimum pay rates do not apply across the whole of the UK. One likely scenario, should rates be discontinued, is that employers in regions where there is higher unemployment, where quality of labour is less of a concern, or where there are fewer fluctuations in demand would decide to reduce rates. And there are many such localities where savings in pay might be made.
There is growing concern about regional economic inequality – it features quite strongly in the report of the Industrial Strategy Commission. The referendum result and subsequent opinion polling have highlighted the divisions in economic, social and political life in the UK. Any relaxation of the minimum rates would be likely to be felt in the poorer regions of the UK, outside of London and the South East, and would increase the divide between the affluent and less affluent areas of the UK. It would have implications far beyond a reduction in the size of the pay packet. While there's currently no serious proposal to abolish the rates, this is one of the best reasons for keeping them.