What is the Economic Impact of the Russia-Ukraine Conflict?
Although primarily a humanitarian crisis, what are the implications for the global economy from the Russian invasion of Ukraine? Building on the work of our latest policy paper, for our Monday Interview Deputy Director Stephen Millard speaks to Patricia Sanchez Juanino, one of the report's authors, about the findings. What could the sanctions, and ongoing conflict, mean for UK economic growth, energy prices and inflation?

Post Date

Reading Time
6 min read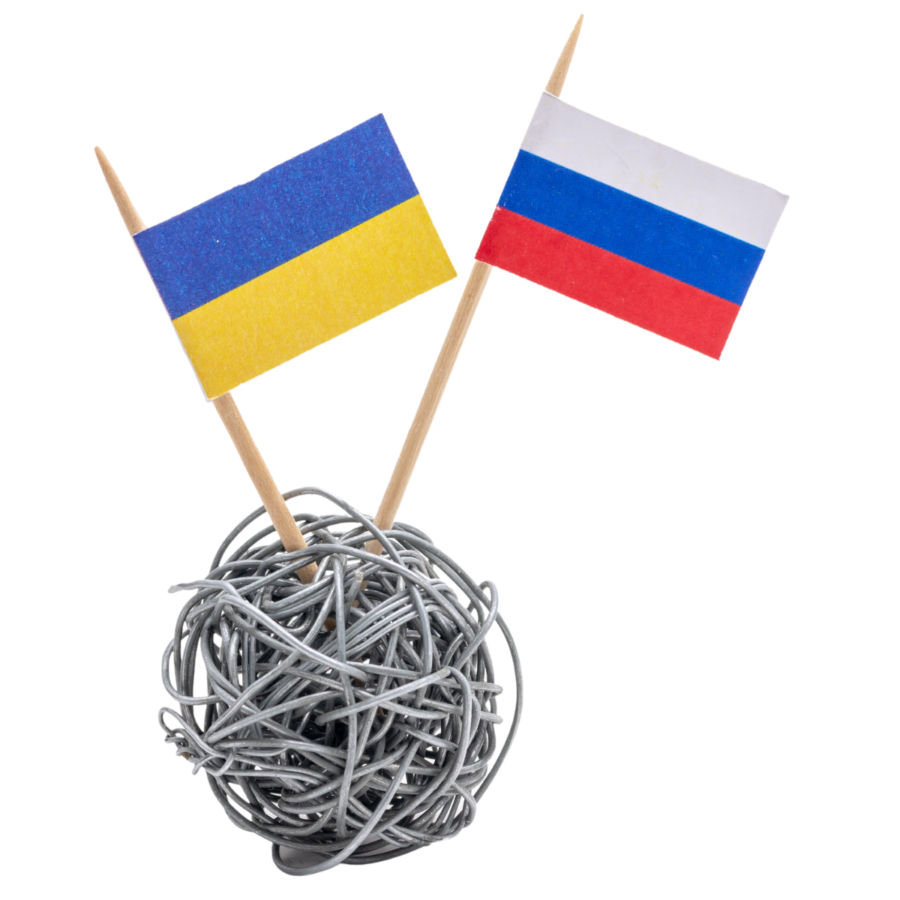 Obviously, our hearts go out to all Ukrainians at this dreadful time, and we can only hope that the sanctions imposed on Russia do have some effect.  What does your analysis suggest will be the effect on the Russian economy?
Conflict in Ukraine has negatively changed the global economy in less than a week. Just 12 days ago, before the war started, the Russian economy was one of the largest economies in the world (the 11th biggest according to IMF data), it was a key supplier area of commodities, particularly energy and food.
As quick-fire, the Russian economy has been pummelled by Western unprecedented sanctions, unwilling to face a nuclear opponent on the battlefield. Sanctions imposed include freezing of Russian central bank assets, targeting of wealthy Russian individuals and some state-owned banks, partial access restriction to the international payments system SWIFT and a stop from Germany to its Russian gas pipeline project.
Sanctions' costs to Russia are partly cushioned by higher prices for gas and oil exports and the avoidance of restrictions through trade conducted with third countries, but the net economic impact on the Russian economy will be negative. We have estimated these spillover effects using our Global Econometric Model (NiGEM). We expect the war to contribute to a fall in GDP in Russia (relative to base) of 1.5 per cent in 2022 and 2.6 per cent by the end of 2023. Russian inflation is likely to soar above 20 per cent this year due to higher import prices following the fall in the rouble and due to higher inflation expectations, resulting in lower confidence, weaker real incomes, and disrupted trade.
Overall, we expect actions against Russia could reduce foreign direct investment, leading to outflows of capital, and reducing its long-term potential growth rate.
Of course, the economic effects of the war and the sanctions will be felt across the world.  What does your analysis suggest will be the effect on world GDP and inflation and what are the channels through which this happens?
The war in Ukraine represents a challenge for the global economy harming growth and putting upward pressure on inflation when inflation is already at high levels. Ukraine is not a significant trading partner for any major economy, but countries such as China, US, Germany, France, and Italy represent some of the major import partners for Russia.
There are several channels through which the conflict impacts on the world economy.  The Ukrainian and Russian economies are key suppliers of commodities, including titanium, palladium, wheat, and corn. Disruptions to the supply chain of these commodities would keep prices high, intensifying for users of such commodities (including car, smartphone, and aircraft makers).
Secondly, significant escalation on energy prices due to Russia being one of the world's largest oil producers and energy exporters, will lead into higher inflation.
Strong international economic sanctions on trade to Russia, which are more severe than the ones imposed in 2014, are another channel through which the global economy is hampered. We assume that the oil price jumps by $40 per barrel in our simulation.
Another channel is the large-scale emigration from Ukraine; the UNHCR says there could be 4 million refugees as the crisis unfolds, and it will depend on border controls, length of the conflict, and how the economy settles down after the war. We have assumed a net outflow of two million a year in 2022 and 2023.
Finally, political risk and uncertainty may drive up savings ratios and make firms more reluctant to invest.
In our simulation, we estimate that the conflict in Ukraine implies that the level of global GDP declines by 0.5 per cent in 2022, and close to 1 per cent by 2023 (which is about $1 trillion off global GDP). It adds up to 3 per cent to global inflation in 2022 and about 2 percentage points in 2023, which would also increase the cost of living and could further put pressure on household consumption.
And moving closer to home, what, and how large, will the economic effects be on the European Union?
 The European Union is the most vulnerable of the major economies, given trade links, reliance on Russian energy to meet more than 60 per cent of its energy needs and the dependence on food supplies.
Risk premia on some European banks have risen and share prices have fallen. Markets will be watchful for any sign of default or liquidity problems for firms with strong links to Russia.
We see the issue of Ukrainian refugees mostly as a European issue; this will present substantial demographic challenges, mainly for western Europe and we expect higher public spending to solve them. In addition, the conflict is expected to increase military spending in NATO. Both defence and refugees' assistance expenditures are likely to add pressure on resources and therefore inflation.
Using our Global Econometric Model (NiGEM), we estimate Eurozone GDP growth to fall by 0.9 percentage points in 2022 and by 1.5 percentage points in 2023, compared to our February forecast. We also expect inflation rising to 5.5 per cent in 2022 and 2.1 per cent in 2023, as against the forecasts we had of 3.1 per cent in 2022 and 1.3 per cent in 2023 in the February forecast.
If sanctions were to be extended to Russian energy exports or were Russia to lower its gas exports as a tool for leverage, European energy prices would rise precipitously, increasing the chances of recession along with significantly stronger inflation.
Finally, what will all this mean for UK GDP and inflation?
Russia has a great exposure to the UK, and as the result of the conflict, we expect the impact on the UK could be to reduce GDP growth by around 0.8 per cent to 4.0 per cent in 2022 and to 0.5 per cent in 2023.
The UK draws most of its gas imports from Norway and produces a sizeable chunk of its own gas needs, so interruptions in supply would be less likely, but it would suffer from higher wholesale gas prices.
Higher energy costs, with global supplies already tight, means a noticeable pass through-to retail prices. We now see inflation to be around 7 per cent in 2022 and 4.4 per cent in 2023, up from 5.3 per cent and 2.7 per cent, against our February Outlook. Our simulation assumes the Monetary Policy Committee (MPC) responds strongly to the rise in inflation.
Watch our recent event – The Economic Cost of the Russia – Ukraine Conflict.