"Not Working – Where Have All the Good Jobs Gone?" – David Blanchflower in conversation about his latest book with Dr Gertjan Vlieghe
Tuesday, 11 June, 2019
07:30 to 09:00

National Institute of Economic and Social Research

Event Type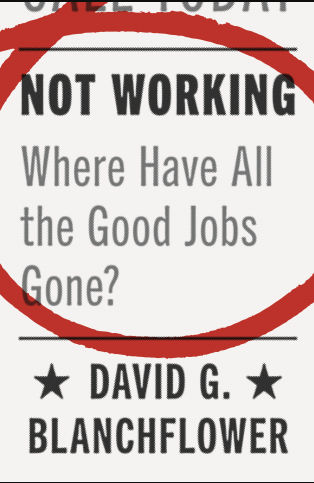 WATCH IT BACK HERE
You can download Prof. Blanchflower's slides here
Dr. Gertjan Vlieghe's remarks are available here
For further reading we recommend this blog by Prof Peter Dolton: Ten Important Facts about the UK Labour Market Today
Danny Blanchflower argues that we should not trust the low unemployment numbers and that they do not prove that the labour market is fine — he argues it isn't.  "Not Working" is about those who can't find full-time work at a decent wage—the underemployed—and how their plight is contributing to widespread despair, a worsening drug epidemic, and the unchecked rise of right-wing populism.
In this book, David Blanchflower draws on his work on labour economics and well-being to explain why today's post-recession economy is so different from what came before. Blanchflower shows how many workers are underemployed or have simply given up trying to find a well-paying job, how wage growth has not returned to pre-recession levels despite rosy employment indicators, and how general prosperity has not returned since the crash of 2008.
David G. Blanchflower is the Bruce V. Rauner Professor of Economics at Dartmouth College, professor of economics at the University of Stirling, and a research associate at the National Bureau of Economic Research. He is the co-author of The Wage Curve. He lives in Canaan, New Hampshire.
He will discuss the book with Dr Gertjan Vlieghe, who has been a member of the Monetary Policy Committee of the Bank of England since September 2015.  
The Institute's Director, Professor Jagjit Chadha, will chair the event.
Timeline:
8:30 – Registration and coffee
9.00 – Welcome from the Chair, Jagjit Chadha
9.05 to 9.25 – David G. Blanchflower will outline some of the key themes from " Not Working"
9.25 to 9.45 – Dr Gertjan Vlieghe ( MPC), will then discuss the book with the author.
9.45 to 10.00 Q&A with the audience
A representative from  Princeton University Press will be at the event with copies of the book, which will be on sale at the discounted price of £ 15.
The event is free to attend but places are limited. Please RSVP at events [at] niesr.ac.uk
Please note: Due to the nature of our Grade II listed building we are unable to provide step-free access to our facilities and the Library is not currently accessible to wheelchair users or those with limited mobility, but we are developing resources to access events via video link or conference call, and would welcome feedback on how to improve access for all.