Press Release: Adjusting to lockdowns – GDP to contract by 3.4% in 2021Q1

Post Date

News Type

Reading Time
2 min read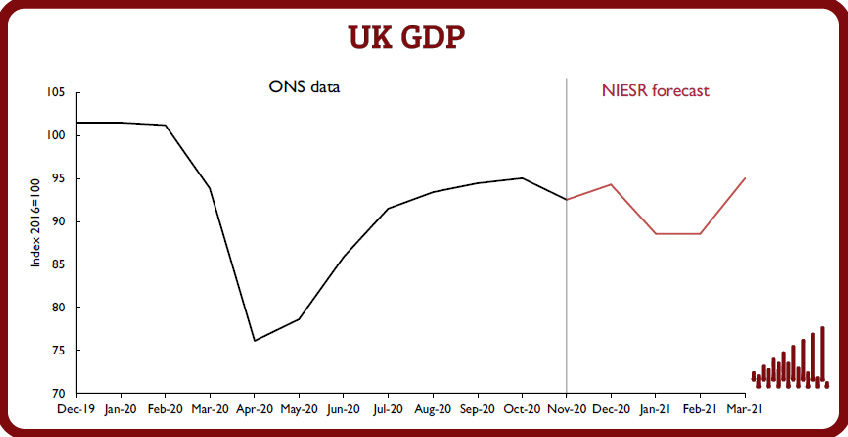 Adjusting to lockdowns: GDP to contract by 3.4% in 2021Q1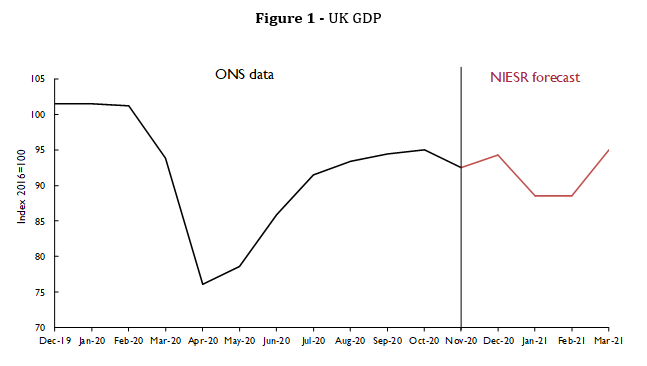 Main points
November GDP data confirm that the second lockdown in England had a far smaller impact on economic activity than the first. The manufacturing sector, for example, operated 32 per cent below pre-Covid capacity in April but continued its recovery to only 7 per cent below in November.
December is likely to show some growth but the emergence of the new strain weighed on activity in the second half of the month in particular. Taken together with today's ONS data revisions we expect a slowing of growth in GDP to 0.9 per cent in the final quarter of 2020, implying a contraction of 9.8 per cent in 2020 overall.
With tighter Covid-19 restrictions required in January and likely to persist beyond, along with some post-Brexit adjustment, our initial forecast is for negative growth of 3.4 per cent in the first quarter of 2021.
As always the short-term negative economic impact of lockdowns should be outweighed by the potential positive long-term health and economic impacts from controlling the virus and restoring confidence.
Rory Macqueen, NIESR Principal Economist – Macroeconomic Modelling and Forecasting, said: "Today's ONS data confirm a significant slowdown in the last quarter of 2020, despite November's lockdown in England clearly having a far smaller effect than the first. Surveys and high frequency indicators suggest that recovery from the Covid-19 shock was weak even before a third lockdown become necessary in January. Temporary and permanent adjustments post-Brexit transition period are likely to also weigh on growth in the early part of 2021, but the vaccine roll-out provides some encouragement for consumption and investment in the second half of 2021 and beyond. The economic impact of the lockdowns is clearly negative in the short-term but will be significantly positive in the medium term if successful in controlling the virus and restoring confidence."
Please find the full analysis in the document attached
———————————————————————
Notes for editors:
For further information please contact the NIESR Press Office: press [at] niesr.ac.uk or Luca Pieri on l.pieri [at] niesr.ac.uk / 07930 544 631
National Institute of Economic and Social Research
2 Dean Trench Street
Smith Square
London, SW1P 3HE
United Kingdom
Switchboard Telephone Number: 020 7222 7665
Website: http://www.niesr.ac.uk