Press Release: Continued lockdown measures keep underlying inflation low

Post Date

News Type

Reading Time
2 min read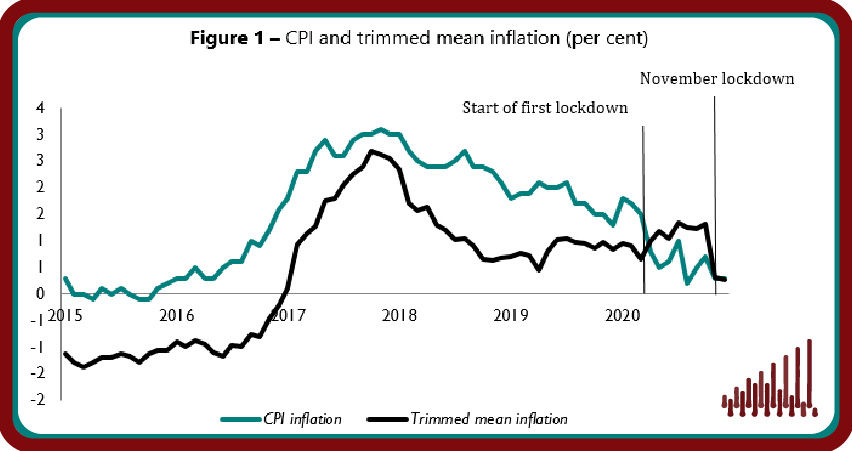 Continued lockdown measures keep underlying inflation low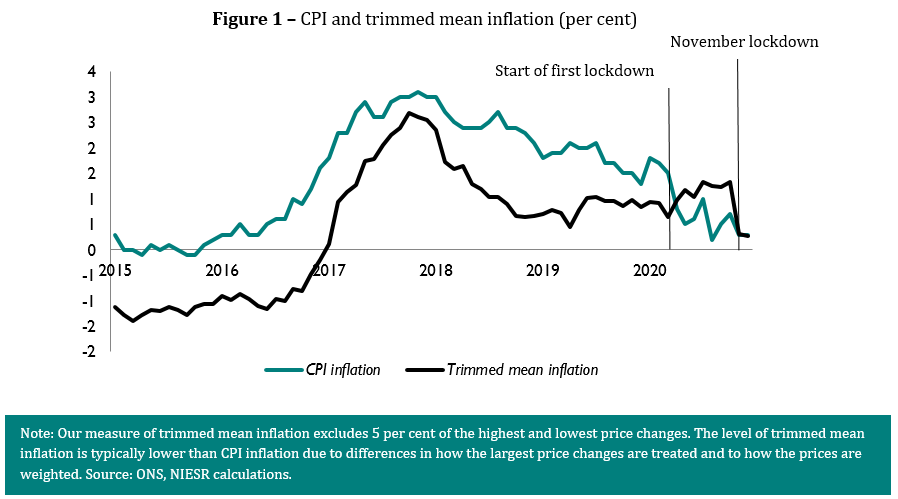 Main points
Underlying inflation remained unchanged at 0.3 per cent in the year to December 2020, as measured by the trimmed mean, which excludes 5 per cent of the highest and lowest price changes (figure 1).
At the regional level, underlying inflation was highest in Northern Ireland at 1.8 per cent and lowest in the South West which saw a 0.5 per cent decline in the year to December 2020 (table 1).
22.9 per cent of goods and services prices changed in December, implying an average duration of prices of 4.4 months. 6.5 per cent of prices were reduced due to sales, 5.1 per cent fell for other reasons and 11.2 per cent recorded increases (figure 2).
We expect the downward pressure on inflation to continue in the short-term as we forecast the UK economy to contract in the first quarter of the year due to the effects of the January lockdown.
CPI inflation is likely to pick up in the second half of the year but stay below the Bank of England's target of 2 per cent in the year to December 2021.
Janine Boshoff, NIESR Economist, Macroeconomic Modelling and Forecasting, said: "Headline inflation increased to 0.6 per cent in December, up from the 0.3 per cent recorded in November. Our measure of underlying inflation, which excludes extreme price movements, remained unchanged at 0.3 per cent in December. Our analysis at regional level indicates that regions that entered higher tiers of restrictions in December experienced marked decreases in consumer prices during the month. Inflation is likely to remain subdued in the short-term due the effects of continued lockdown measures."
Please find the full analysis in the attached document
ENDS
——————————————-
Notes for editors:
For further information and to arrange interviews, please contact the NIESR Press Office:
press [at] niesr.ac.uk   / 079 3054 4631 / l.pieri [at] niesr.ac.uk
NIESR aims to promote, through quantitative and qualitative research, a deeper understanding of the interaction of economic and social forces that affect people's lives, and the ways in which policies can improve them.
Further details of NIESR's activities can be seen on http://www.niesr.ac.uk or by contacting enquiries [at] niesr.ac.uk . Switchboard Telephone Number: +44 (0) 207 222 7665