Press Release: GDP forecast to contract by 2.2 per cent in Q4

Post Date

News Type

Reading Time
3 min read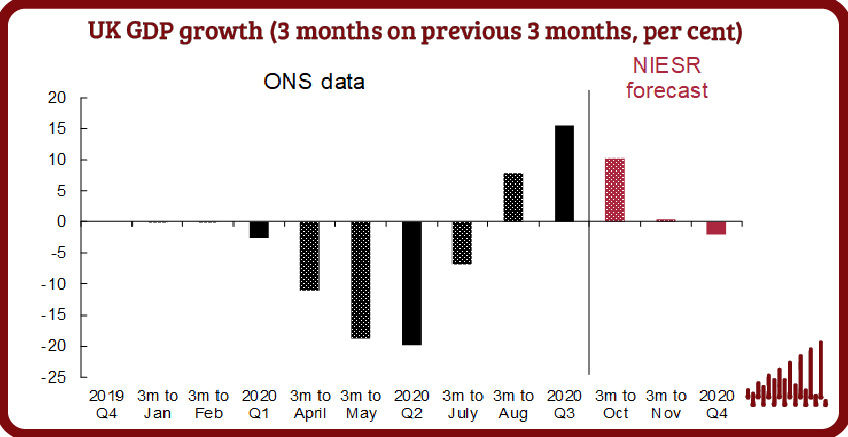 GDP forecast to contract by 2.2 per cent in Q4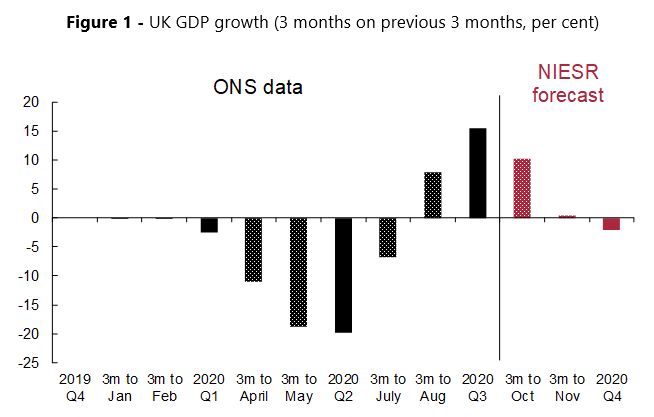 Main points
Latest ONS estimates published this morning show that the UK economy grew by15 ½ per cent in the third quarter of 2020, as the economy recovered from the first phase of the Covid-19 pandemic and resultant public health measures. This is largely in line with what we expected last month and with our recent forecast in our November Review.
Monthly estimates suggest that growth in September itself was 1.1 per cent, meaning that GDP at the end of the quarter was still 8.2 per cent below its pre-pandemic February level.
Our outlook for the fourth quarter is for 2.2 per cent decline in growth. We expect growth to be 0.3 per cent in October. The second lockdown is expected to bring a monthly fall of about 12 per cent in November in line with our previous estimates on the impact of the November lockdown.   
Our forecasts assume a return to October levels of activity in December: in other words, we expect a rapid rebound following the end of the second lockdown. Accordingly, our forecast for 2020 stand at –11.3 percent.
There are downside risks if the lockdown is extended or does not succeed in bringing down infection rates, while upside risks would come from a smaller than anticipated fall in November as households switch to online consumption ahead of the holiday season.
Dr Kemar Whyte, NIESR Senior Economist – Macroeconomic Modelling and Forecasting said "Today's ONS data suggest that the recovery from the first phase of the pandemic was already slowing by the end of the third quarter, with output remaining 8.2 per cent below pre-pandemic levels in September. Growth in the fourth quarter will be much slower than in the third quarter and is likely to turn negative, due to weaker growth in October and a second lockdown from November. Our expectations for the fourth quarter and beyond will depend on the stringency and duration of ongoing lockdowns; local and national ."
Dr Hande Küçük, NIESR Deputy Director – Macroeconomic Modelling and Forecasting said: "We expect the second lockdown to bring a large monthly contraction in November to be followed by a quick rebound in December provided that the lockdown succeeds in getting infection rates under control without the need for a further extension. The UK economy is likely to contract by 11.5 per cent in 2020."
Please find the full analysis in the document attached
———————————————————————
Notes for editors:
For further information please contact the NIESR Press Office: press [at] niesr.ac.uk or
Luca Pieri on l.pieri [at] niesr.ac.uk / 07930 544 631
National Institute of Economic and Social Research
2 Dean Trench Street
Smith Square
London, SW1P 3HE
United Kingdom
Switchboard Telephone Number: 020 7222 7665
Website: http://www.niesr.ac.uk