Press Release: Monthly GDP Tracker – Recovery to stall due to heightened Covid-19 uncertainty

Post Date

News Type

Reading Time
3 min read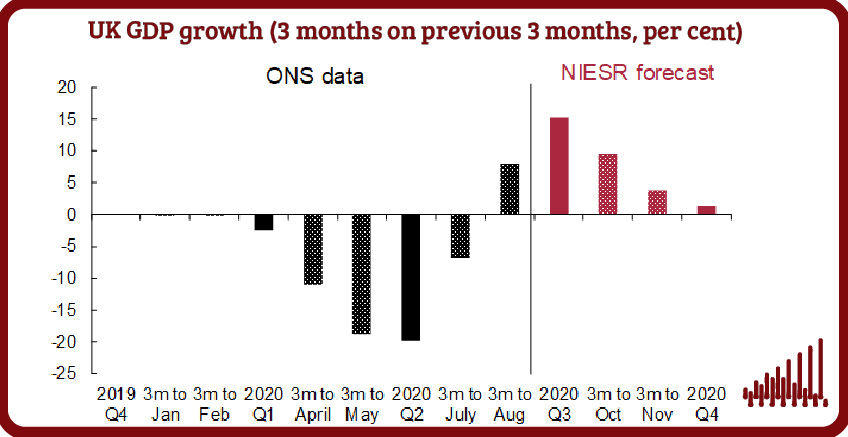 MONTHLY GDP TRACKER
*FOR IMMEDIATE RELEASE*
Recovery to stall due to heightened Covid-19 uncertainty
Main points
Latest ONS estimates published this morning suggest that the UK economy grew by 8.0 per cent in the three months to August, broadly in line with our forecast last month (figure 1).
All major sectors remain below their February 2020 level. Services remain 9.6 per cent below, while manufacturing and construction are 8.5 per cent and 10.8 per cent below, respectively.
The ONS estimates suggest that the economy grew by 2.1 per cent in August itself, marking a fourth consecutive monthly increase, but at a significantly lower rate compared to June and July as we had expected (table 1). 
We now expect growth to stop in September and project 0.0 per cent.  Taking account of the latest ONS estimate for August and our September forecast, we expect to see growth of around 15 per cent in the third quarter of 2020.
However, against the background of a likely widening of lockdown restrictions, a winding down of government support schemes, and the return of extensive Brexit-related uncertainty, we expect a significantly slower pace of recovery in the fourth quarter of 2020.  Our initial forecast for the final quarter of the year is for growth of 1.3 per cent. 
We expect the economy to be about 8.5 per cent below its end-2019 level by the end of this year.
Dr Kemar Whyte, Senior Economist – Macroeconomic Modelling and Forecasting, said: "Today's ONS estimates suggest that GDP grew by 8 per cent in the three months to August. Although the latest estimates also signal a fourth consecutive monthly increase, with growth of 2.1 per cent in August itself, output is still about 9 per cent below the levels seen in February. These numbers would suggest that the UK could grow by about 15 per cent in the third quarter of 2020. However, there is further cause for concern ahead with the likely re-imposition of lockdown measures, the winding down of government support measures, and Brexit uncertainty. We expect the economy at the end of this year to be some 8.5 per cent below its level at the end of 2019."
Please find the full analysis in the document attached
———————————————————————
Notes for editors:
For further information please contact the NIESR Press Office: press [at] niesr.ac.uk or
Luca Pieri on l.pieri [at] niesr.ac.uk / 07930 544 631
National Institute of Economic and Social Research
2 Dean Trench Street
Smith Square
London, SW1P 3HE
United Kingdom
Switchboard Telephone Number: 020 7222 7665
Website: http://www.niesr.ac.uk