Press Release: NIESR Monthly CPI Tracker – Non-essential retail prices drag down inflation

Post Date

News Type

Reading Time
3 min read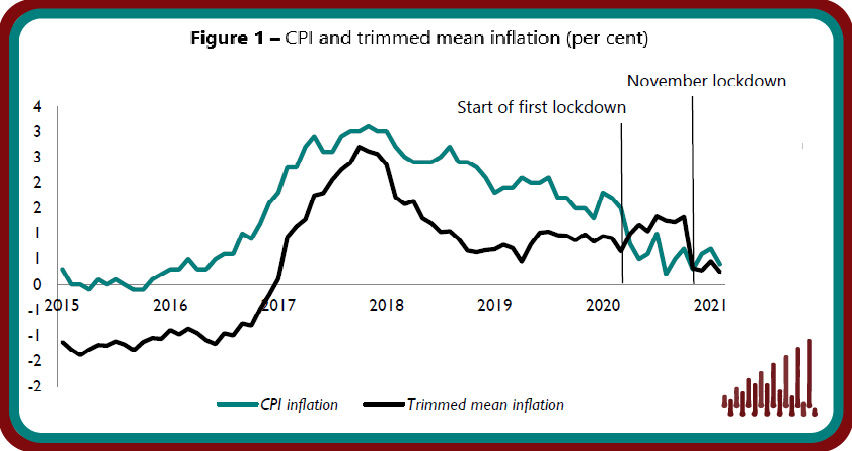 Non-essential retail prices drag down inflation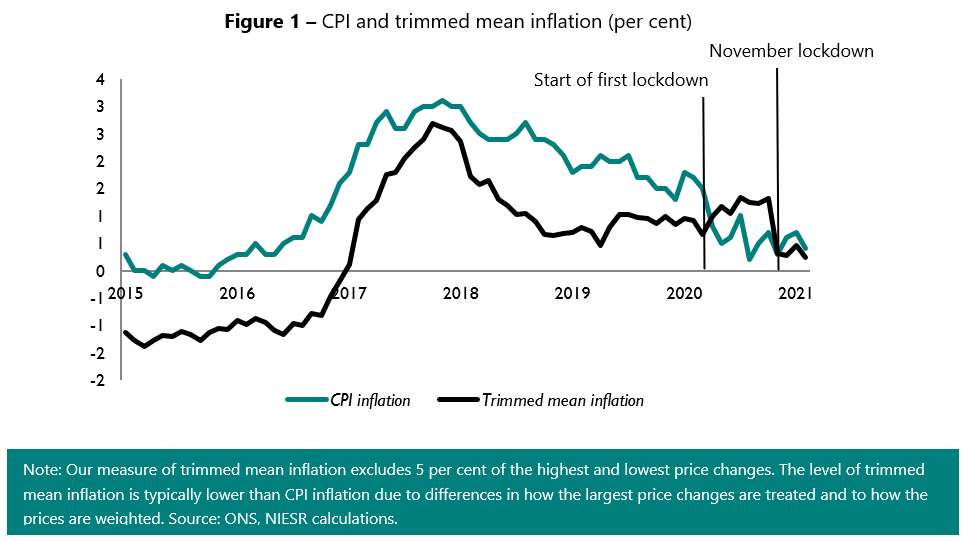 Main points
After increasing steadily for three months, underlying inflation has moderated to the lowest level recorded in four years. Our measure of underlying inflation recorded 0.2 per cent in the year to February 2021, down from 0.5 per cent in January 2021, as measured by the trimmed mean, which excludes 5 per cent of the highest and lowest price changes (figure 1).
At the regional level, underlying inflation was highest in Wales at 2.2 per cent and lowest in the North West where prices declined by 0.5 per cent in the year to February 2021 (table 1).
22.6 per cent of goods and services prices changed in February, implying an average duration of prices of 4.4 months, shorter than the long-term average of 5.1 months. 5.9 per cent of prices were reduced due to sales, 5.1 per cent fell for other reasons and 11.6 per cent recorded increases (figure 2).
Consumer inflation will likely oscillate in the short term as prices reflect the ongoing lockdown imposed in January 2021. Historically the month of February would see an increase in headline inflation following the unwinding of January sales, but with non-essential retail still affected by lockdown, the decrease in headline inflation is more pronounced.
CPI inflation is likely to pick up in the second half of the year but stay below the Bank of England's target of 2 per cent in the year to February 2022.
NIESR economist Janine Boshoff said: "Headline inflation decreased to 0.4 per cent in February, down from 0.7 per cent recorded in January. Our measure of underlying inflation, which excludes extreme price movements, decreased to 0.2 per cent in February. Inflation is expected to reflect some volatility in the short term as the effect of ongoing lockdown impacts consumer prices in the non-essential retail market. We expect inflation to rise in the latter half of the year as the economic recovery gains pace on the back of a successful vaccination programme and higher producer costs are passed on to consumers, but we still expect inflation to remain below the Bank's 2 per cent target in the year to February 2022."
Please find the full analysis in the attached document
ENDS
——————————————-
Notes for editors:
For further information and to arrange interviews, please contact the NIESR Press Office:
press [at] niesr.ac.uk   / 079 3054 4631 / c.ridyard [at] niesr.ac.uk / l.pieri [at] niesr.ac.uk
NIESR aims to promote, through quantitative and qualitative research, a deeper understanding of the interaction of economic and social forces that affect people's lives, and the ways in which policies can improve them.
Further details of NIESR's activities can be seen on http://www.niesr.ac.uk or by contacting enquiries [at] niesr.ac.uk . Switchboard Telephone Number: +44 (0) 207 222 7665