Press Release: NIESR Monthly GDP Tracker – UK economy on rocky road to recovery with growth forecast of around 2 per cent in August

Post Date

News Type

Reading Time
2 min read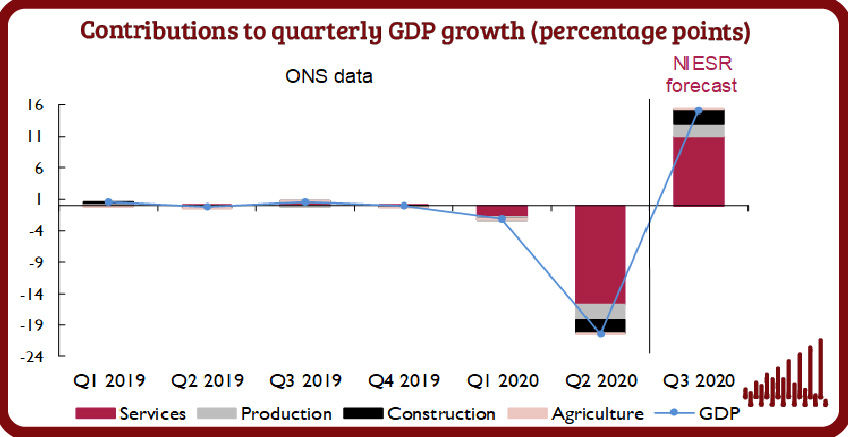 UK economy on rocky road to recovery with growth forecast of around 2 per cent in August
Figure 1 – UK GDP growth (3 months on previous 3 months, per cent)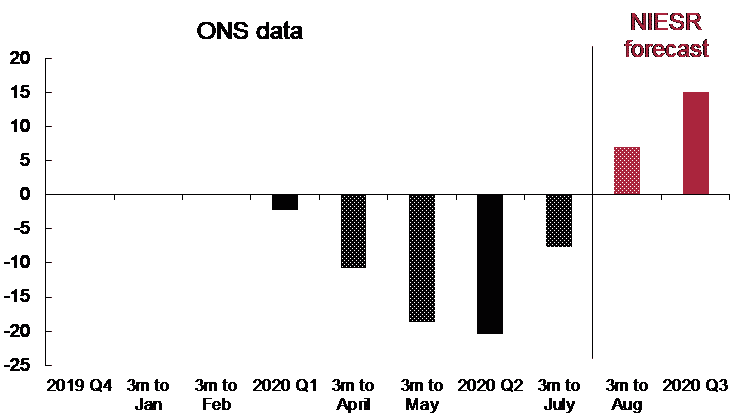 Main points
Latest ONS estimates published this morning show that the UK economy contracted by 7.6 per cent in the three months to July, largely in line with what we had forecast last month (figure 1).
The estimates also suggest that the economy grew by 6.6 per cent in July itself, marking a third consecutive monthly increase.
Despite this recovery, the economy has still only recovered just over half of the lost output caused by the national lockdown.
All the main sectors of the economy remain below pre-crisis levels. However, improvements have been seen in manufacturing and agriculture, but services and production remain sluggish.
Taking account of the latest ONS estimates, we forecast GDP to grow by about 7 per cent in the three months to August and expect to see growth of around 15 per cent in the third quarter of 2020. 
Dr Kemar Whyte, Senior Economist  said:
"There has been a welcome resumption of economic growth in the third quarter as the lockdown eased, signalling the end of a short, yet severe, recession in the first half of the year. The latest ONS estimates suggest that GDP grew by 6.6 per cent in July, a third consecutive monthly increase and is now 18.6 per cent higher than its April level. However, despite this recovery, we have still only recovered just over half of the output lost due to the Covid-19 pandemic. The evolution of the pandemic and the scale of expected withdrawals of government support pose downside risks on the pace of the recovery as we move to the end of this terrible year."
Please find the full analysis in the document attached
———————————————————————
Notes for editors:
For further information please contact the NIESR Press Office: press [at] niesr.ac.uk or Luca Pieri on l.pieri [at] niesr.ac.uk / 07930 544631
National Institute of Economic and Social Research
2 Dean Trench Street
Smith Square
London, SW1P 3HE
United Kingdom
Switchboard Telephone Number: 020 7222 7665
Website: http://www.niesr.ac.uk