Press Release: NIESR Monthly Wage Tracker – Compositional effects push up average weekly earnings at the end of 2020

Post Date

News Type

Reading Time
2 min read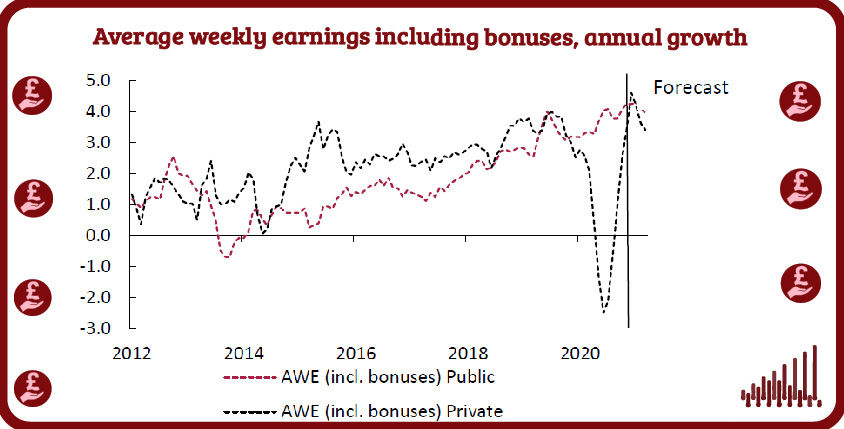 Average pay growth to ease after a strong rise in the last quarter of 2020
Main points
Average weekly earnings (AWE) averaged 1.8 per cent in 2020, making it the lowest average earnings growth since 2014. The year was split between a sharp drop in the first half and a strong rebound in the second half.
The strong rebound in the second half of 2020 was partly driven by the compositional effect of a fall in the number and proportion of lower-paid jobs in the private sector.
Starting salaries and temporary wages both declined in January 2021 compared to December 2020, suggesting that pay growth is moderating in the first quarter.
The number of furloughed workers looks set to climb to 5-6 million during the current lockdown, which will also have a downward effect on average pay growth.
The Monthly Wage Trackers predicts that AWE growth will moderate from 4.7% in the fourth quarter of 2020 to 3.4% in the first quarter of 2021.
At the sectoral level, employment trends will not only be impacted by scarring from the pandemic, but also by the effect of Brexit, particularly in manufacturing.
Cyrille Lenoël, NIESR Senior Economist, said: "2020 was a year of contrast with a record drop in average pay in the first half, and a record surge in the second half. There was a lot of heterogeneity across sectors and across the pay scale, with lower income workers particularly impacted by the restrictions related to Covid-19. To reduce the long-term scarring effects of the pandemic on the labour market, it is crucial that the vaccination programme continues to be rolled out at pace and fiscal support measures are not prematurely withdrawn."  
Please find the full commentary in attachment.
——————————————————————-———
For further information please contact the NIESR Press Office the NIESR Press Office press [at] niesr.ac.uk or Luca Pieri on  l.pieri [at] niesr.ac.uk / 07930 544 631
National Institute of Economic and Social Research
2 Dean Trench Street
Smith Square
London, SW1P 3HE
United Kingdom
Switchboard Telephone Number: 020 7222 7665
Website: http://www.niesr.ac.uk