Press Release: NIESR Bi-Weekly COVID-19 tracker – Surges, spill overs and swells

Post Date

News Type

Reading Time
4 min read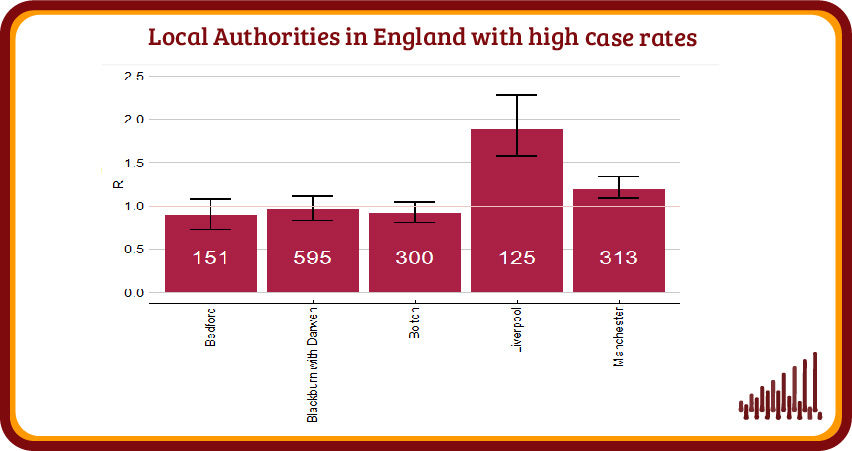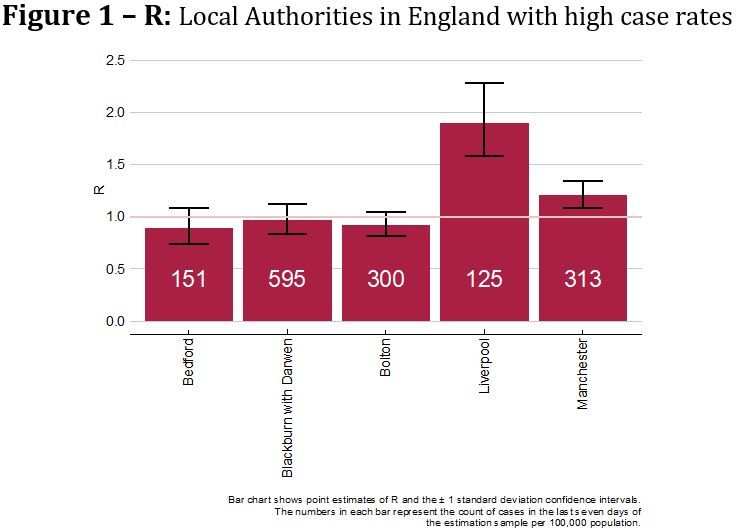 Main points
We comment on the structure and composition of the widely anticipated wave emerging in the UK. The advancing pattern is consistent with a race between, on the one hand, local surges that spill over geographically due to higher transmissibility of the now dominant Delta variant, and on the other, the vaccination programme that reduces the susceptible pool.
We illustrate this by extending consideration to two additional local authorities in the North West that appear to have followed on the same track as the first set of local authorities to experience sharp but localised increases in case rates. 
Figure 1 provides R number estimates and the case rates per 100,000 population, for Bolton, Blackburn and Darwen, Bedford, Manchester and Liverpool, based on specimen date data series released on 15th June 2021. We discard data for the last 3 days due to data revisions in that time window. The estimates reported are to be read in the context of the policy of increased testing in local authorities with relatively high case rates.
A sudden surge in infection in any specific location can lead to a sharp increase in the estimated reproduction number. A part of this increase in R may be due to increased testing in the location.  A part of it may be driven by the fact that the increase is from a low base. Importantly, if infection can be contained through a focussed and timely vaccination programme, the reproduction number will fall.
The trajectories of infection Bedford, Blackburn and Darwen and Bolton — in the initially concerning local authorities — appear to fit this profile (Figure 2). The lower reproduction numbers in these areas at present may reflect the efficacy of the accelerated vaccination programme reducing the effective size of the susceptible population, notwithstanding some degree of vaccine escape.
At the same time, the more transmissible Delta variant was always likely to spill over and take hold in surrounding geographical areas. With lower base numbers the initial growth rates will be high. This appears to be the situation in Manchester and Liverpool in the North West.
At the end of our estimation sample on 11th June 2021, the R numbers had fallen in the initially concerning local authorities: to the range 0.80 – 1.05 for Bolton (case rate 300), 0.75 – 1.10 for Bedford (case rate 151), 0.85 – 1.10 for Blackburn and Darwen (case rate 595).  The R numbers were much higher in areas that entered the watch list more recently:  in range of 1.60 – 2.30 for Liverpool (case rate 125) and 1.10 – 1.35 for Manchester (case rate 313).
We should expect regional and national level incidence patterns to reflect an aggregation of a succession of local surges that spill over geographically even as they are contained through vaccination. As the unvaccinated proportion of the adult population diminishes the incipient wave is more likely to become a ripple that rapidly settles down.
Dr Craig Thamotheram, Senior Economist – Macroeconomic Modelling and Forecasting, said:  "The current picture is one of localised outbreaks that spill over geographically due to the higher transmissibility of the Delta variant. As vaccination coverage becomes universal, shrinking the susceptible pool, local surges will tend to peak quickly and die out. The national and regional patterns which arise from the aggregation of numerous staggered local surges, may be a more a swell than a wave."
Please find the full analysis in the document attached
———————————————————————
Notes for editors:
For further information please contact the NIESR Press Office: press [at] niesr.ac.uk or Luca Pieri on l.pieri [at] niesr.ac.uk / 0207 654 1954
National Institute of Economic and Social Research
2 Dean Trench Street
Smith Square
London, SW1P 3HE
United Kingdom
Switchboard Telephone Number: 020 7222 7665
Website: http://www.niesr.ac.uk