Press Release: NIESR Monthly GDP Tracker – Rapid growth to slow in third quarter

Post Date

News Type

Reading Time
2 min read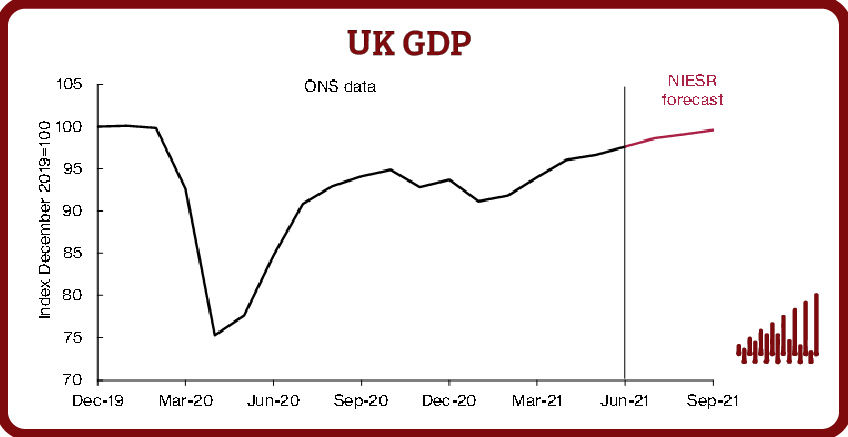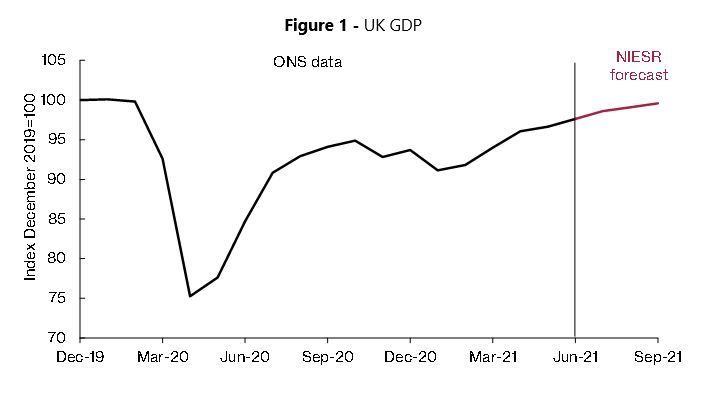 Main points
June's month-on-month growth of 1 per cent in GDP was mainly driven by the effects of reopening which led to a 1.5 per cent growth in services sector in June 2021. Return to some normality in health activities and increased demand for indoor dining were the main contributors to rapid growth in services output. Meanwhile, production output contracted by 0.7 per cent in the same period.
In line with our GDP tracker a month ago, GDP increased by 4.8 per cent in the second quarter of 2021 driven by a strong rebound in consumption expenditure as Covid-19 restrictions were gradually lifted. Most of the rapid rise in GDP is due to services output which increased by 5.8 per cent in second quarter while growth in production output was much weaker with 0.5 per cent. 
With catch-up potential still evident in consumer-facing services and the continued effects of reopening, we expect growth in July of 1 per cent, and 2.4 per cent for the third quarter of 2021 overall. This reflects our assumption that Covid-19 cases will continue to wane and remaining domestic restrictions imposed by governments and businesses will be lifted over the course of the third quarter.
With the level of GDP still below its pre-pandemic level by 4.4 per cent as of the second quarter and continued disparities at sector, household and region level, ensuring a sustainable and balanced recovery from the pandemic remains the biggest policy challenge.
Dr Hande Küçük, NIESR's Deputy Director, said: "GDP increased by 4.8 per cent in the second quarter of 2021, in line with our GDP tracker a month ago. More frequent visits to GPs meant that the health and social work sector was the largest contributor to June growth, while construction continued to slow after a strong start to the year. We expect growth to slow in the third quarter but still remain high by historical standards on the assumption of waning Covid-19 cases and lifting of all domestic restrictions by the end of the third quarter. It will be important to monitor the underlying growth rate of the economy as the opening-up effects dissipate."
Please find the full analysis attached
ENDS
Notes for editors
For further information please contact the NIESR Press Office or Luca Pieri on 020 7654 1954 or l.pieri [at] niesr.ac.uk  
​Further details of NIESR's activities can be seen on http://www.niesr.ac.uk or by contacting enquiries [at] niesr.ac.uk
Switchboard Telephone Number: +44 (0) 207 222 7665