Professor Sir Ian Diamond, the UK's National Statistician, delivered the Deane-Stone Public Lecture on Economic Measurement

Post Date

News Type

Reading Time
3 min read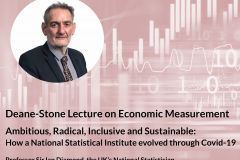 Last Wednesday Professor Sir Ian Diamond, the UK's National Statistician, delivered the inaugural Deane-Stone Lecture at the National Institute of Economic Research, an event chaired by Professor Huw Dixon, Research Lead for Economic Measurement at NIESR.
Professor Diamond talked about the way ONS has fast moved in the last 18 months to be able to provide accurate and trustworthy data and statistics on the economy, society and the wider world to all the citizens and to Government to enable better policy.
Professor Diamond started the Lecture praising the Bean Review and the establishment of the Economic Statistics Centre of Excellence (hosted by the National Institute of Economic and Social Research), whose work has been crucially important, especially in some areas, to help the ONS building even stronger foundations for the challenges the pandemic and other phenomena are bringing to economic measurement and data collection.
His remarks then focussed on the importance of having faster, near real-time economic data nowadays. Partnering with a host of different companies has helped the ONS in producing and publishing a whole set of real-time indicators (e.g., on consumer spending, people mobility, vacancies, flights and so on).
These indicators, then brought together, are playing increasingly a key role in order to inform economic policy but also to understand how consumers are reacting to events, how a specific economic sector is faring, how people respond to changes in restrictions, for instance, as in the current pandemic.
Real-time indicators are what people want nowadays to understand what is going on in the economy, according to Sir Ian Diamond, and therefore a National Statistics Institute such as the ONS should be producing these and doing so in an accessible way and making them increasingly available to people and researchers.
Concluding the lecture, Professor Diamond, highlighted that ONS will continue to be at the centre of policy debate and informing the public, and at the same time continuing to embrace new data sources to keep having better and more accurate data.
Commenting on the Lecture, Professor Dixon, who chaired the event, said: "Sir Ian lecture gave a breath-taking panorama of the range and depth of the work done by the ONS and ESCoE in developing rapid statistics across a wide range of economic, social and health matters. The speed and scope of the changes has been unprecedented, but always the focus is to keep the statistics reliable and consistent with Sir Ian's vision of statistics being for the public good: to help policy makers and enable a deeper understanding of what is going on in the economy and society."
To find out more about the lecture and additional related material including the recording of it, click here.