Professor Mary O'Mahony
Mary is Professor of Economics at Kings College London and part of a large network of researchers in Europe, the US and increasingly in emerging economies who generate internationally comparable data.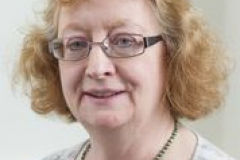 Research Interests
Mary's broad research area is measuring and explaining international comparisons of growth and productivity.
Education
Mary has a MA in Economics from University College Dublin
Employment
2013 – present – Professor of Economics, King's College London
2006 – 2013 – Professor of International Industrial Economics, Birmingham Business School, University of Birmingham
1987 – 2006 – NIESR
1982-87 – Teaching Assistant, University of British Columbia, Vancouver, Canada.
1980-82 – Research Assistant, Economic and Social Research Institute, Dublin.
Additional Information
Her most noted achievement to date has been the EU KLEMS database on industry productivity accounts covering all EU countries, the US, Japan, Australia, Canada and Korea. This database has thousands of downloads and is used extensively in academic research and policy analysis.
In addition to this more aggregate work, Mary has been involved in a number of studies of individual industries such as the electricity supply, ceramic tableware and the chemicals industries as well as projects evaluating the cost effectiveness of English local authorities, and the impact of R&D on company performance.