The UK economy is on course to grow by 0.4% in the first quarter of 2019.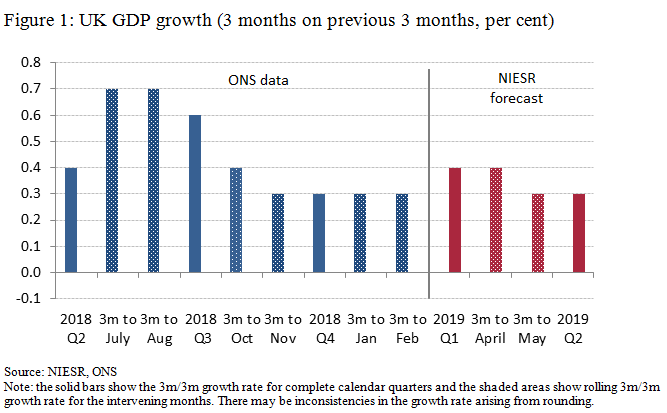 Main points
The UK economy is on course to grow by 0.4% in the first quarter of 2019 and, if current trends continue, by 0.3% in the second quarter (figure 1). 
According to new ONS statistics published this morning, the UK economy expanded by 0.3 per cent in the three months to February.  This outturn was higher than the 0.1 per cent growth rate that we forecast last month for the same period.
Despite some weak survey evidence for the service sector in March, better than expected performance in January and February has led us to estimate that the economy grew by 0.4 per cent in the first quarter as a whole.
Recent UK survey data had been pointing to a much stronger performance in the manufacturing sector than was apparent in the ONS data.  The latest ONS data showing a widespread increase in output throughout the manufacturing sector has moved more into line with the survey evidence.
Garry Young, Head of Macroeconomic Modelling and Forecasting, said "The latest ONS data was better than we had expected, but recent survey evidence suggests that economic growth is likely to continue at a fairly modest pace for the first half of this year. This reflects the impact of Brexit-related uncertainty and slower growth in the global economy outside of the United States. The near-term outlook for the UK economy continues to depend on the outcome of the Brexit negotiations".
Please find the full commentary in attachment.