GDP Could Contract by 15 to 25 Per Cent in Second Quarter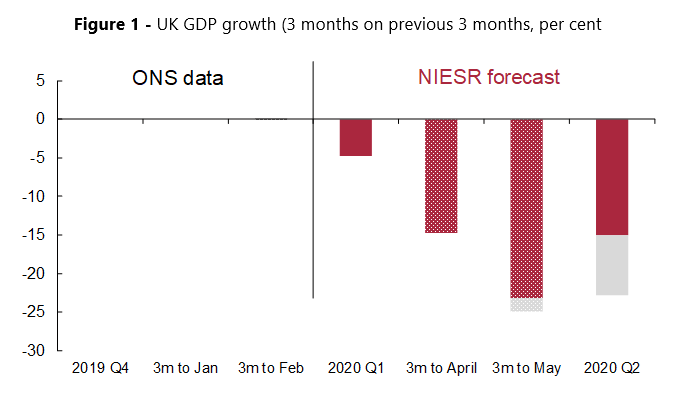 Note: Grey and Burgundy bars show high and low scenarios
Main Points:
Once in a century event poses major threat to UK growth. The UK economy could now see growth decline by 5% in the first quarter of 2020, and if a lockdown continues, by around 15% to 25% in the second quarter (figure1.)
According to new ONS statistics published this morning, the UK economy expanded by 0.1 per cent in the three months to February, only marginally weaker than what we had forecast last month.
Output declined in February itself, mainly due to a large fall in the construction sector. 
We project growth for March to give a Q1 view and also a view on Q2.  The lockdown is causing the largest contraction in economic activity since 1921.
Lockdowns reduce overall activity by around 20% in every month of their operation with larger effects possible in other sectors, particularly if the lockdowns are prolonged.
"The UK economy is now almost certain to experience a major contraction in the second quarter of the year. The forceful impact of COVID-19 and the global lockdown has thrust the economy into unknown territory where we could see GDP declining at a record quarterly rate. Nonetheless, instant and significant recovery remain a distinct possibility if the spread of the virus comes to halt quickly."
Dr Kemar Whyte
Senior Economist - Macroeconomic Modelling and Forecasting
Please find the full commentary in the attachment