Spring sees green shoots of economic recovery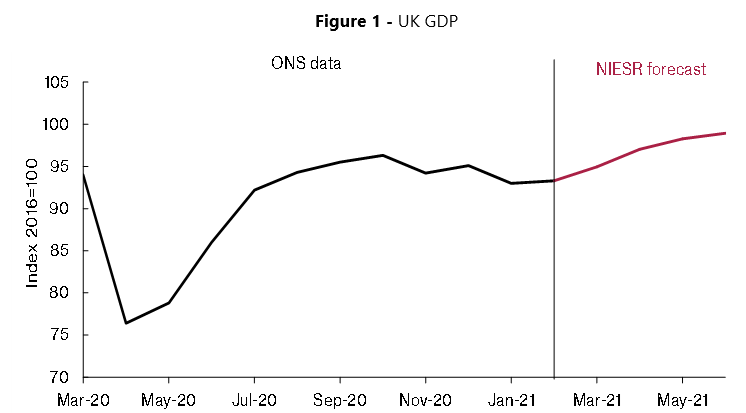 Main points
Indications of further recovery during March mean that GDP is likely to have fallen by around 1.5 per cent in Q1 quarter-on-quarter.
Assuming that the vaccination and re-opening programmes continue to run to schedule, our first estimate is for growth in Q2 of 4.6 per cent, driven by pent-up demand and a return towards pre-Covid levels in the hospitality and retail sectors.
Our month-on-month forecast for March, when many children returned to school, is for growth of 1.8 per cent. April is then forecast to see growth of 2.2 per cent, driven by the partial re-opening of pubs and restaurants.
Compared with the first lockdown in Q2 of 2020 the effects of restrictions imposed since January have clearly been much more sector-specific. While GDP was less than 8 per cent lower than in February 2020, this is driven by large falls in a handful of sectors, with many businesses adapting to restrictions.
Rory Macqueen, Principal Economist - Macroeconomic Modelling and Forecasting, said:"Despite little change in restrictions, a return to growth in February and upward revisions to January GDP mean that the contraction in the first quarter will be much smaller than anticipated. Clearly much of the economy has adapted to cope with Covid-19 restrictions: while hospitality was down by over 50 per cent in February on a year earlier, and the arts by over a third, both manufacturing and construction were only 4 per cent smaller in February. Output in public administration, health and energy sectors was higher than a year earlier. If the vaccine programme and lifting of restrictions continue on schedule this provides a firm basis for continuing growth in the second quarter and 2021 overall. The third wave in Europe and the success of other countries in vaccinating their populations will also have relevance for the recovery of the UK, as an open economy."
Please find the full analysis in the document attached