UK economic growth back on track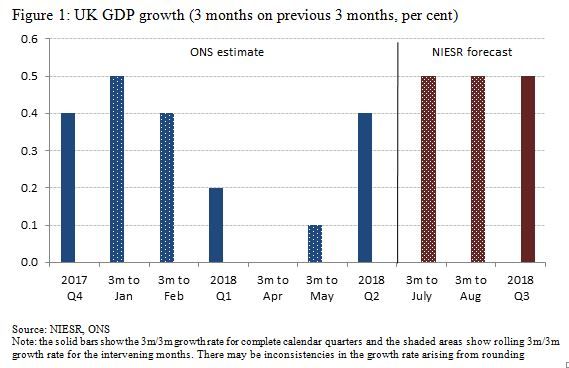 Main points
Latest economic data confirms that the UK economy has recovered from a soft patch earlier in the year and is now growing at a pace that is at or slightly above potential.
According to new ONS statistics published this morning, the UK economy expanded by 0.4 per cent in the second quarter. The outturn was in line with the monthly GDP forecast that we published last month for the same period and is close to our estimate of potential growth rate. Building on the official data, our monthly GDP Tracker suggests that growth is set to nudge higher to 0.5 per cent in the third quarter.
Recent survey evidence suggests that the manufacturing and construction sectors are recovering after a particularly weak start to the year and the dominant services sector is set to maintain a similar rate of growth in the third quarter.
Amit Kara, Head of UK macroeconomic forecasting, said "The economy recovered in the second quarter after the unexpected slowdown in the first quarter. Growth is now close to our estimate of potential. Looking ahead, there is some evidence to suggest that services sector output has stabilised while the relatively small construction sector continues to gather momentum. GDP growth is expected to strengthen to 0.5 per cent in the third quarter."