Awaiting Omicron – R Continues to Hover Around 1

Pub. Date

Pub. Type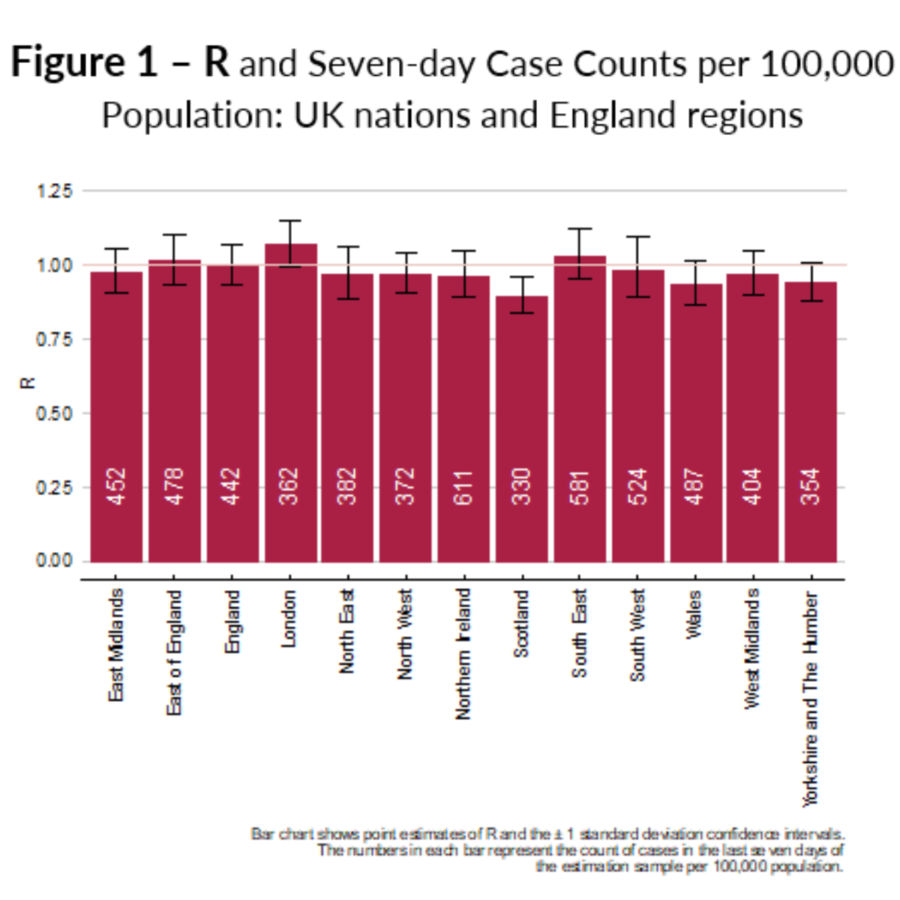 Main points
We report R estimates and forecasts of new cases, hospital admissions and deaths for the nations and regions.  The next tracker will be released on 13th January.
Looking at the trajectory of new cases across different age brackets for England we observe a noteworthy compositional change relative to the forecasts made four weeks ago.  We highlighted then that cases in those aged 0-19 and 40-49 were forecast to fall, now they are forecast to increase or remain flat in the 10-19 age group. The patterns in those aged 50 and above and 20-29 are similar to those forecast previously (Figure 2).
New Covid-19 cases are forecast to increase in the South East, London and East of England and decline in all other English regions (Figure 3). Decreases can be expected in all UK nations apart from England where they are forecast to remain flat (Figure 4).
Hospital admissions are forecast to decrease modestly. This represents a change from our previous forecast which had modest increases in admissions (Figure 5). Trend deaths are forecast to decline modestly whilst they were forecast to remain constant previously (Figure 6).
The proportion of those over 12 who have received their first vaccination dose is now 89 per cent; 81 per cent have received their second dose; and 33 per cent have received their third dose as well. This summary figure conceals important heterogeneity across age brackets (Figure 7).
"The R number continues to hover around 1 whilst we await the effect of Omicron that has yet to show up in the data. Forecasts of new cases will be affected by how quickly the variant spreads and any changes in behaviour that result, either mandated or voluntary. Reassuringly, hospital admissions and deaths are forecast to decrease modestly in the coming weeks. Dr Craig Thamotheram
Senior Economist - Macroeconomic Modelling and Forecasting