The Economic Effects of the Government's proposed Brexit Deal

Pub. Date

Pub. Type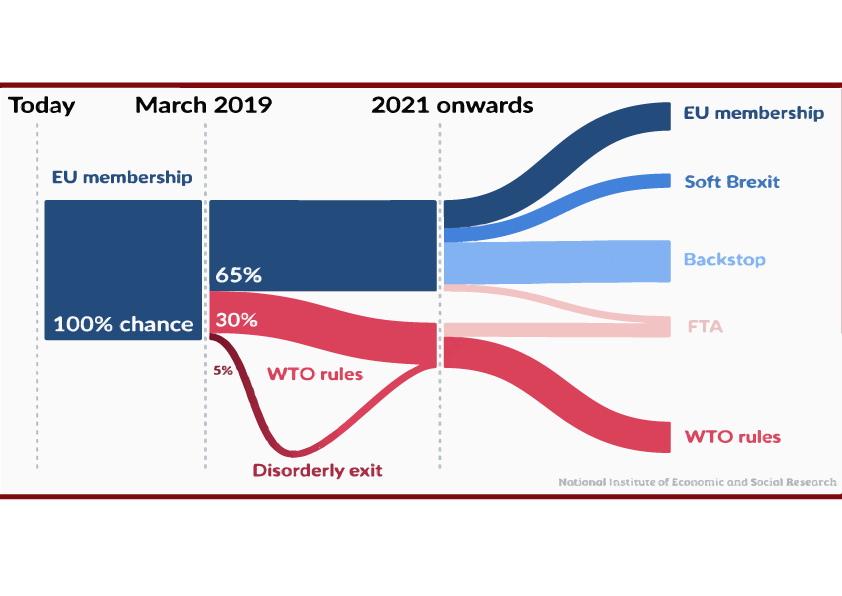 Read Garry Young's note on the methodology behind this report here.
This report estimates the economic effects of the government's proposed Brexit deal that was first published on 14 November 2018, and subsequently expanded.
The impact of any Brexit deal can be broken down into two key components: first, the economic impact of the changes in the trading relationships between the UK, EU and other countries brought about by the deal: second, the economic impact of how the deal affects uncertainty and confidence. The main focus of our analysis is on how the government's proposed Brexit deal is likely to affect the economy, leaving aside the effect it might have on uncertainty. Our assessment is that trade with the EU, especially in services, will be more costly after Brexit. This is likely to have an adverse effect on living standards in the UK. Our central estimate is that if the government's proposed Brexit deal is implemented, then GDP in the longer term will be around 4 per cent lower than it would have been had the UK stayed in the EU. This is roughly equivalent to losing the annual output of Wales or the output of the financial services industry in London. This is equivalent to a loss of 3 per cent in GDP per head, worth around £1,000 per annum on average to people in the UK. If the UK were to stay in a customs union with the EU, or if the Irish backstop position was to be invoked, there would still be a hit to GDP per capita of 2 per cent.