UK GDP growth is set to slow to a quarterly rate of 0.3% in 2018Q4 from 0.6% in the previous quarter but a modest recovery is expected in 2019Q1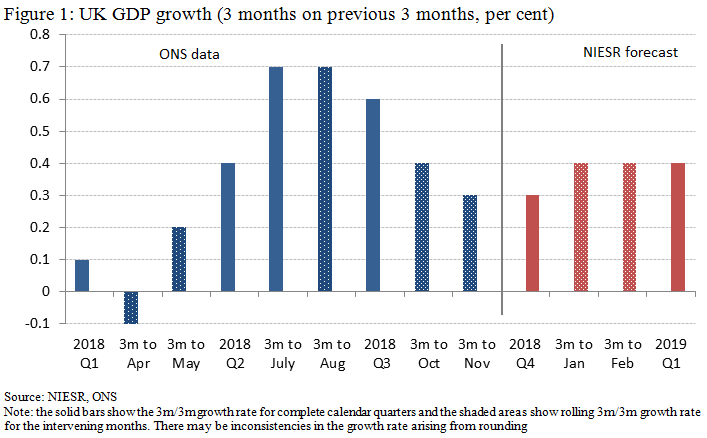 Main points
UK economic growth looks set to slow to a quarterly rate of 0.3% in the fourth quarter of 2018 from 0.6% in the third quarter.  This profile is marginally lower than the 0.4 per cent that we had published last month and points to GDP growth of 1.5 per cent in 2018.
According to our forecast, growth in the final quarter is driven by the service and construction sectors. The slowdown in the manufacturing sector explains most of the weakness in fourth quarter output.
We expect economic growth to recover modestly in the first quarter of this year to 0.4 per cent, but the risks to our forecast are skewed to the downside because of uncertainty related to Brexit.
Amit Kara, head of UK macroeconomic forecasting at NIESR, said "The latest data confirm that UK GDP growth is slowing in the final quarter of last year. Activity is set to ease to 0.3 per cent over this period, which is slightly below potential. The slowdown comes alongside a general softening in global activity and is therefore, not entirely attributable to uncertainty caused by Brexit. Growth is being driven by the non-retail service sector and construction sectors. Manufacturing output growth appears to have contracted sharply over this period.
Looking ahead, we see economic growth recover to 0.4 per cent in the first quarter of this year mainly because output in the manufacturing sector stabilises. The risks to our forecasts however, are tilted to the downside because of Brexit."
Please find the full commentary in attachment.