UK Output Stagnated at end of 2019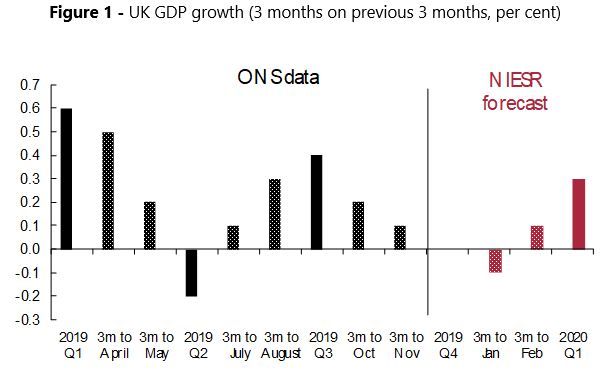 Main points
The UK economy is on course to post zero growth in the fourth quarter of 2019, consistent with growth of 1.4 per cent in 2019 as a whole.  On the basis of recent trends we tentatively forecast service sector-driven growth of 0.3 per cent in the first quarter of 2020 (figure  1).  
According to new ONS statistics published this morning, the UK economy grew by 0.1 per cent in the three months to November, a little faster than we had expected last month reflecting upward revisions to the September and October data.  
Output fell by 0.3 per cent in November itself, with falls of 0.3 per cent in services and 1.7 per cent in production outweighing an increase of 1.9 per cent in construction.  Monthly data is volatile and the forecast improvement in growth in the first quarter of 2020 assumes that the weakness in services in November proves to be temporary.
Recent surveys suggest that economic activity was little changed in December, though there is some evidence of an improvement in business sentiment after the election. 
"The latest data confirm that economic growth in the United Kingdom had petered out at the end of last year. GDP was virtually flat in the three months to November and the latest surveys point to further stagnation in December.  While there is some evidence of an improvement in business optimism following the general election, it is doubtful that this will do much to change the short-term economic outlook of further lacklustre growth."
 
Dr Garry Young
Director of Macroeconomic Modelling and Forecasting