Construction and Education Recovery to be Followed By Retail and Hospitality

Pub. Date

Pub. Type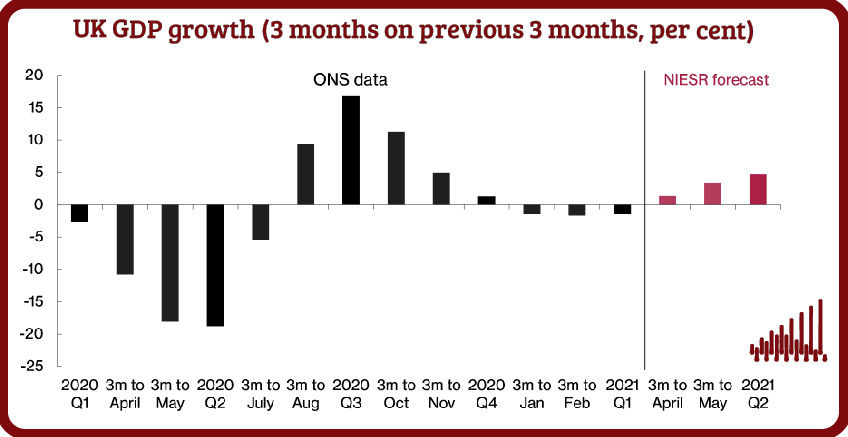 Construction and education recovery to be followed by retail and hospitality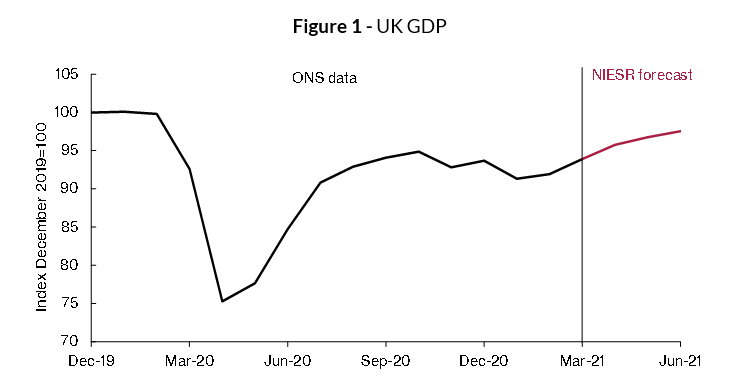 Main points
First quarter GDP growth of 1.5 per cent was in line with our April Tracker forecast. Today's ONS data reported month-on-month growth of 2.1 per cent in March, reflecting the re-opening of schools, the expanded testing and vaccination programme, and rapid growth in the construction sector.
We now forecast month-on-month growth of 2 per cent in April, and growth of 4.7 per cent in the second quarter compared with the previous quarter. This is likely to be driven by the retail and hospitality sectors, which we anticipate being re-opened in line with the government's roadmap.
While rapid growth in the first part of the year provides a strong basis for 2021, GDP in the first quarter was still nearly 8 per cent below its pre-pandemic level in the final quarter of 2019. In March the hospitality sector was still operating at 41 per cent of its February 2020 level, with the arts and recreation sector at 66 per cent.
Our full UK forecast for 2021, published on Monday, predicted year-on-year growth of 5.7 per cent, driven by strong consumer spending. There are significant upside and downside risks to this, predominantly related to the continuing spread of Covid-19 globally and to the spending of household savings accumulated under lockdown.
Rory Macqueen, Principal Economist - Macroeconomic Modelling and Forecasting, said: 
"A contraction of 1.5 per cent is in line with our forecast for the first quarter of the year, underlining the extent to which the economy has adapted to deal with the latest national lockdown. This has provided a better start to 2021 than anticipated at the beginning of the year and we expect it to contribute to a strong rebound in the second quarter as the economy opens up, consistent with our year-on-year growth forecast of 5.7 per cent in 2021.  As expected with many children returning to school, the education sector provided a large contribution to growth in March. There were also significant contributions from the retail sector, from construction and from testing and vaccination programmes in the health and social care sector."
Please find the full analysis in the attached document.