NIESR Briefing: Industry and Regional Effects of a No-Deal Brexit

Pub. Date

Pub. Type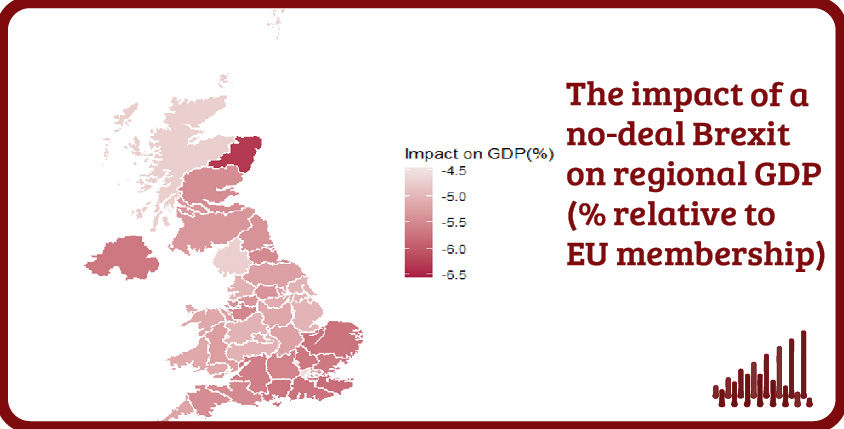 Ever since EU exit has started featuring in the public debate, NIESR has contributed analyses of the long-run economic impact of different types of Brexit, including the deal proposed by the government in November 2018, a customs union deal and no deal. Since the EU referendum, NIESR has monitored the effects of uncertainty about the kind of exit on economic performance and highlighted policy trade-offs for various Brexit scenarios, including a no-deal exit. The production of this briefing was supported by the ESRC through its Impact Acceleration Award and it focuses on:
The impact of Brexit so far on the UK economy as a whole
New NIESR estimates (based like all our estimates on our economic model NiGEM) of the long-run economic impact of a no-deal Brexit on UK regions
Possible policy responses to a no-deal Brexit
KEY TAKEAWAYS
Brexit uncertainty explains a large part of the current lack of momentum in the UK economy through its impact on investment, alongside global economic weaknesses.
NIESR estimates the UK economy will eventually be around 5 per cent smaller than it would otherwise have been if there is a no-deal Brexit.
All parts of the UK are set to be poorer with a no-deal Brexit than they would have been if we had stayed in the EU. The worst affected parts of the country include North Eastern Scotland, Kent, Surrey, East and West Sussex and East Anglia.
In the short run, the response of the economy to no deal depends on the level of preparedness of businesses and mitigating policy measures adopted by the government and Bank of England.
Read the full Briefing Note in attachment