After the Euros Spike, Herd Immunity May be in Sight

Pub. Date

Pub. Type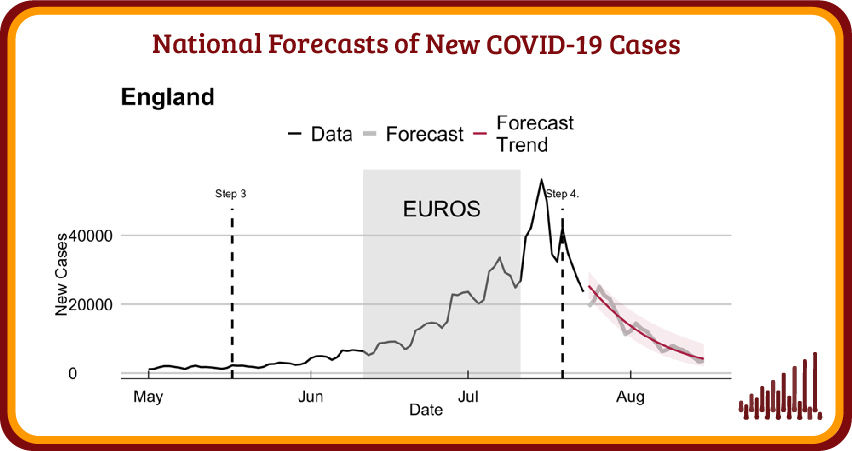 Figure 3: National Forecasts of New COVID-19 Cases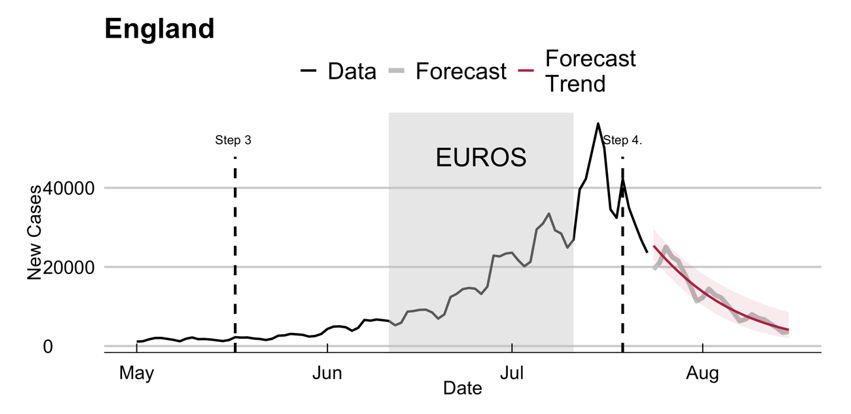 Main points
Two weeks ago, on July 15th, we highlighted the strong signs of the Delta wave was approaching a peak in the North West. We pointed out that other regions would likely follow suit. Data across nations, regions and local authorities as well as R number estimates show that a peak has occurred somewhat sooner than we forecast.

Many factors drive infection transmission. The most relevant in recent weeks have been: warm weather (numbers go down), schools break up (down), official relaxation of restrictions a week ago (up), more testing due to pingdemic (up), and not the least, the breakdown of social distancing in the run up to important matches in the European football tournament (Euros). Identifying the separate magnitudes of these effects is difficult. We present results from a pure time series model.

Figure 1 provides R number estimates and the case rates per 100,000 population, for the nations of the UK and for English regions, based on specimen date data series released on 27th July 2021. We discard data for the last 3 days due to data revisions in that time window.
Figure 2 shows forecasts of a uniform reduction of cases across all English regions. It would appear that a large enough proportion of the population is currently immune, due either to vaccination or prior infection, thereby reducing the probability of transmission between persons.
Figure 3 points to a pronounced Euro 2020 effect. Recall that Scotland played England on the 18th June, and were eliminated on the 22nd June. England lost in the final on the 11th July.  In all nations social distancing protocols did not survive the run up to big games.  Cases increased substantially with a lag after these important games and tapered off quickly thereafter. 
Figure 4 shows that the reduction in forecast daily cases is uniform across all the age brackets in England.
Figure 5 shows that around 88 per cent of adults have received their first dose of vaccination whilst 71 per cent have received their second.​
​ 
"Across nations, regions, local authorities and age brackets the past week's data show a big reduction in cases after an increase that was probably related to the increased social interaction from Euro 2020. Taken together with the high proportion of immune adults, either through vaccination or infection, we are seeing declines in cases at a faster rate than after the winter peak."
Dr Craig Thamotheram
Senior Economist - Macroeconomic Modelling and Forecasting