Breakthrough Infections Detected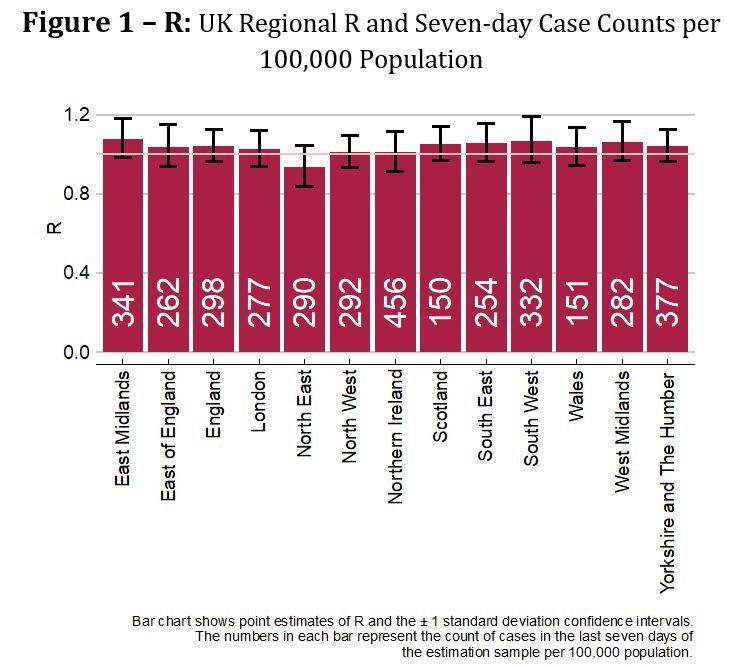 Main points
We highlight a somewhat muted reversal of the decline in cases that was evident two weeks ago, and offer possible explanations. Our next tracker will be released on 9th September.
It is likely that some of the increased infection transmission resulting from step-4 reopening are becoming evident only now in the data, following the incubation period of the virus which ranges from 2 to 14 days.
In addition, research on infection transmission has concluded that while currently administered Covid vaccines are highly effective at averting severe illness and death, they offer only imperfect protection against infection itself even after full vaccination. Cases recorded in those that are fully vaccinated are referred to as breakthrough infections. This can explain the slight increase in cases despite the fact that 75% of the target population are now fully vaccinated.
Figure 1 provides R number estimates and the case rates per 100,000 population, for the nations of the UK and for English regions, based on specimen date data series released on 10th August 2021. We discard data for the last 3 days due to data revisions in that time window. Compared to two weeks ago, all regions have displayed a notable increase in R numbers and case rates.
We forecast uniform increases of new Covid-19 cases for all English regions other than North East and North West (Figure 2). Meanwhile, forecasts for England and Scotland show a moderate increase in new Covid-19 cases (Figure 3).
Higher relative increases of daily new cases are forecast for older age groups in England as shown by Figure 4. This is consistent with recent sero-prevalence research that has concluded that the levels of antibody in the fully vaccinated dropped substantially over 2 -3 months, with the possibility that the protection against infection offered by vaccines may wear off over time.
Figure 5 shows age bracketed breakdown that are vaccinated. The aggregate vaccinated population with 89 per cent of adults have received their first dose of vaccination and 75 per cent have received their second dose, masks important heterogeneity across age brackets. Significantly, for those under 35 less than 50 per cent were fully vaccinated upon step-4 reopening.
"After nearly 16 months of restrictions Step-4 reopening on 19th July has led to a marked increased social contact. We consider this the predominant reason for the muted reversal in the decline in cases that become evident recently. Recent research shows that the Delta variant has the capacity to breakthrough among those that are fully vaccinated, and that vaccine effectiveness reduces after 2-3 months of being vaccinated. These are the likely driving force behind the increase in cases, particularly amongst the older age brackets."
Dr Craig Thamotheram
Senior Economist - Macroeconomic Modelling and Forecasting