New Cases Forecast to Decline in All but the Young

Pub. Date

Pub. Type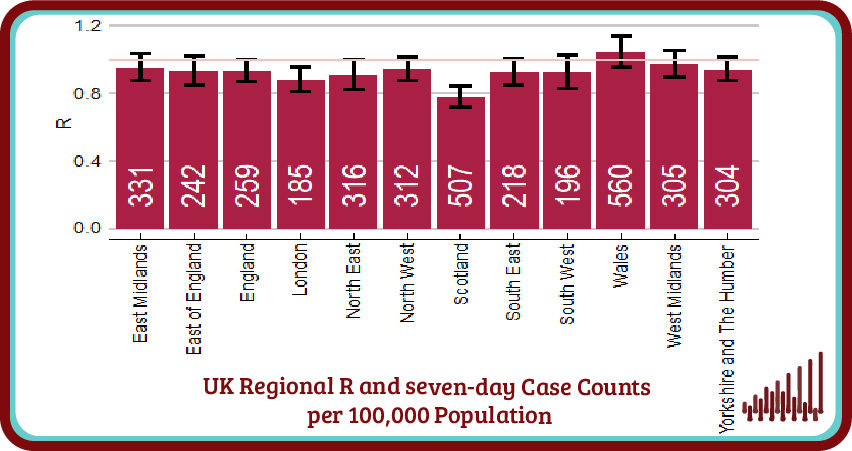 Main Points
We report R estimates and forecasts of new cases and hospital admissions for England and Scotland.
The R number has fallen below 1 in all nations and regions apart from Wales where it is slightly above 1 (Figure 1).
For the adult population in England, we forecast declines in new cases. However, new cases for the sub-ten age group is forecast to increase while those for the 10-19 age group is expected to remain flat (Figure 2).
We forecast decreases of new Covid-19 cases for all English regions (Figure 3). Similar decreases can be expected for England and Scotland also (Figure 4).
Hospital admissions are forecast to decrease slightly, dropping below the 1000-per-day mark (Figure 5).
The proportion of those over 16 who have received their first dose is 90 per cent; 82 per cent have also received their second dose. This summary figure conceals important heterogeneity across age brackets (Figure 6). Importantly, less than 50 per cent of those under 30 are currently fully vaccinated.
"For England, new cases are forecast to decline in all age groups apart from the young school aged population. The recent increase is primarily due to schools reopening. To the extent that English regions follow the patterns of those that reopened earlier, namely Scotland and Leicestershire where schools reopened around 18th and 23rd August respectively, we can expect the cases amongst the young to subside in the coming weeks. Looking ahead, the next test will be University students returning to campus."
Dr Craig Thamotheram
Senior Economist - Macroeconomic Modelling and Forecasting