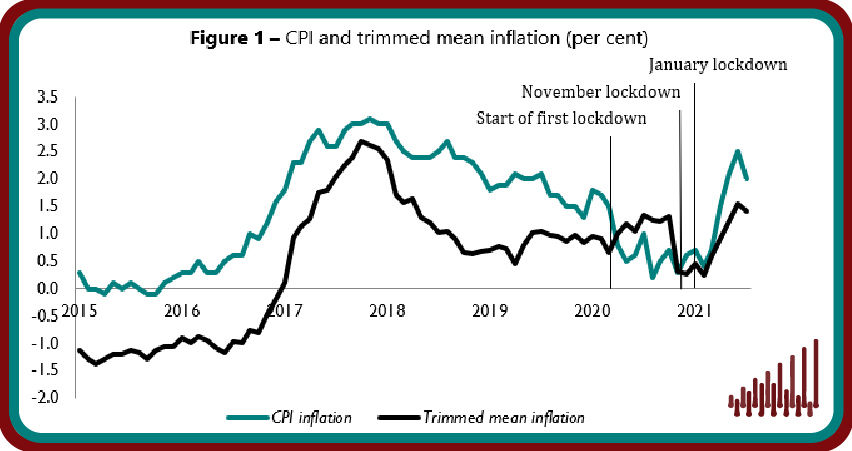 Main points
Underlying inflation decreased from 1.6 per cent in June to 1.4 in July as measured by the trimmed mean, which excludes 5 per cent of the highest and lowest price changes (figure 1). Headline consumer inflation decreased by a larger margin, decreasing to 2 per cent in July from 2.5 per cent in June 2021.
18.3 per cent of goods and services prices changed in July, implying an average duration of prices of 5.5 months. 5.1 per cent of prices were reduced due to sales, 4.5 per cent fell for other reasons and 8.8 per cent recorded increases (figure 2).
Our measure of underlying inflation moderated in all but 2 regions of the UK. Underlying inflation in London increased to 3.9 per cent in July, up from 3.7 per cent in June. East Anglia and the North West saw the lowest regional trimmed mean inflation of 0.6 per cent in July (table 1).
As expected, base effects had a notable downward effect in July and will continue to add volatility to the headline inflation figure in the short term. Based on NIESR calculations, we believe that base effects will boost headline consumer figures in August before trending downward in September.
Several key transitory effects will put additional upward pressure on headline inflation in the remainder of the year: shortages in intermediate inputs and ongoing disruption in supply chains have filtered through to consumer goods prices, while labour shortages and the associated increase in wages could also feed through to headline inflation.
Furthermore, the scheduled increase in OFGEM household energy price-cap in November 2021, in conjunction with the reversal of the 2020 VAT cuts in October 2021 and April 2022, will likely provide further impetus to consumer prices. As such, we expect that headline CPI may be as low as 2.4 per cent in the year to July 2022, exceeding the Bank of England's 2 per cent target.
To prevent the short-term inflation from feeding into a wage and price spiral, we recommend the Bank of England to revise its communication regarding policy rates and continuation of asset purchases.
NIESR economist Janine Boshoff, said: "Annual headline inflation decreased to 2 per cent in July from 2.5 per cent in June. As expected, the impact of base effects had a notable downward effect in July, while month-on-month consumer prices remained at the same level as that recorded in June 2021. Our measure of underlying inflation, which excludes extreme price movements, decreased to 1.4 per cent in July from 1.6 per cent in June. Base effects will continue to add volatility to the headline inflation figure, as we expect an upward trend in August before another moderation in September. Several transitory factors will boost headline inflation in the next few months, including the reversal of the 2020 VAT cuts scheduled in October 2021 and April 2022, the scheduled increase in the OFGEM household energy price-cap in November 2021, as well as higher producer input costs filtering through to consumer goods prices. As such, we expect annual consumer price inflation to remain elevated in 2021 before peaking in the first quarter of 2022. To prevent these transitory effects influencing inflation expectations, the Bank of England will need to revise its communication about policy rates and asset purchases."