Continued Lockdown Measures Keep Underlying Inflation Low

Pub. Date

Pub. Type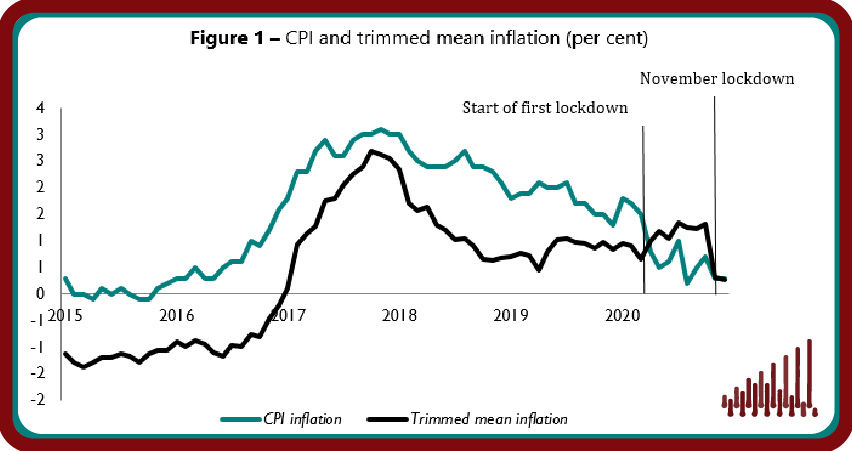 Continued lockdown measures keep underlying inflation low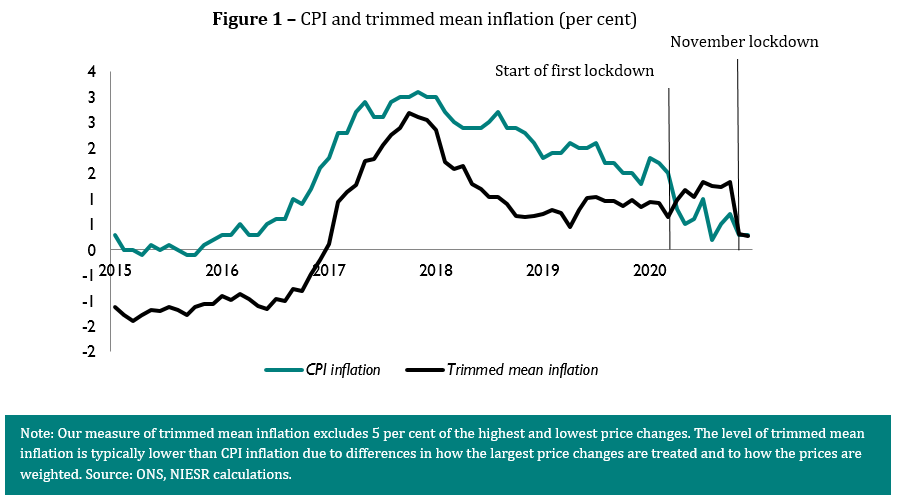 Main points
Underlying inflation remained unchanged at 0.3 per cent in the year to December 2020, as measured by the trimmed mean, which excludes 5 per cent of the highest and lowest price changes (figure 1).
At the regional level, underlying inflation was highest in Northern Ireland at 1.8 per cent and lowest in the South West which saw a 0.5 per cent decline in the year to December 2020 (table 1).
22.9 per cent of goods and services prices changed in December, implying an average duration of prices of 4.4 months. 6.5 per cent of prices were reduced due to sales, 5.1 per cent fell for other reasons and 11.2 per cent recorded increases (figure 2).
We expect the downward pressure on inflation to continue in the short-term as we forecast the UK economy to contract in the first quarter of the year due to the effects of the January lockdown.
CPI inflation is likely to pick up in the second half of the year but stay below the Bank of England's target of 2 per cent in the year to December 2021.
"Headline inflation increased to 0.6 per cent in December, up from the 0.3 per cent recorded in November. Our measure of underlying inflation, which excludes extreme price movements, remained unchanged at 0.3 per cent in December. Our analysis at regional level indicates that regions that entered higher tiers of restrictions in December experienced marked decreases in consumer prices during the month. Inflation is likely to remain subdued in the short-term due the effects of continued lockdown measures."
Janine Boshoff
Economist, Macroeconomic Modelling and Forecasting