Underlying Inflation Signals Additional Price Pressures

Pub. Date

Pub. Type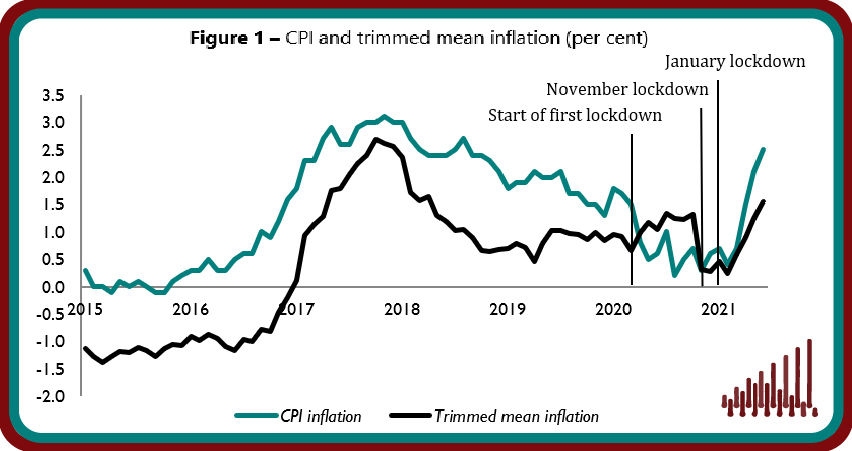 Underlying inflation signals additional price pressures
Main points
Underlying inflation increased from 1.2 per cent in May to 1.6 in June, its highest level since April 2018 as measured by the trimmed mean, which excludes 5 per cent of the highest and lowest price changes (figure 1). Headline consumer inflation rose by a similar margin, increasing to 2.5 per cent in June from 2.1 per cent in May 2021.
20.1 per cent of goods and services prices changed in June, implying an average duration of prices of 5 months, in line with the long-term average. 4.0 per cent of prices were reduced due to sales, 5.1 per cent fell for other reasons and 11 per cent recorded increases (figure 2).
Our measure of underlying inflation increased in all 12 regions of the UK. Underlying inflation in London recorded another sharp increase to 3.7 per cent in June, up from 3.3 per cent in May. East Anglia and the North West saw the lowest regional trimmed mean inflation of 0.9 per cent in June (table 1).
In addition to higher oil prices being reflected in pump prices and the effects of opening-up in some sectors such as eating out and retail clothing, reported shortages in intermediate inputs and ongoing supplier delays have filtered through to consumer goods, making the increase in consumer prices more widespread.
Base effects will continue to add to the volatility in inflation in the short-term, having a notable downward effect in July and September but an upward effect in August. The VAT cut of 2020 is scheduled to be reversed in September 2021 and March 2022, and we expect that this will add further impetus to the upward pressure on annual consumer price inflation depending on the degree of pass-through. As such, we expect that headline CPI is likely to be in the range of 2.5 per cent to 3.25 per cent in the year to June 2022, exceeding the Bank of England's 2 per cent target, which might prompt the Bank of England to review its communication regarding policy rates and continuation of asset purchases.
"Annual headline inflation rose to 2.5 per cent in June from 2.1 per cent in May. The month-on-month increase in consumer prices was again quite high in June with 0.5 per cent, following 0.6 per cent recorded in each of March and April. Our measure of underlying inflation, which excludes extreme price movements, increased to 1.6 per cent in June from 1.2 per cent in May, reflecting price pressures from several transitory factors such as the effects of opening-up and higher transport costs. Higher input prices and supply constraints in some sectors will continue to put an upward pressure on headline inflation in the short-term. Furthermore, the VAT cuts which were aimed at supporting the hospitality, hotel and holiday sectors last year are scheduled to be reversed in September 2021 and March 2022. Depending on the level of pass-through, these could also contribute to higher headline inflation and lead to a peak in annual consumer price inflation around March 2022. The peak in inflation and its persistence will be crucially determined by how the reported shortages in intermediate inputs and labour will interact with the recovery in aggregate demand on the back of the easing in Covid restrictions."
Janine Boshoff
Economist, Macroeconomic Modelling and Forecasting