Underlying Inflation Reflects Inflationary Pressure
Consumer price inflation decreased by 0.7 percentage points to 0.8 per cent in the year to April 2020, as per data released by the ONS. Our new analysis of 84,990 locally collected goods and services indicates consumers benefitted from lower prices in the clothing and footwear, household services and transport categories, reflecting seasonal sales in the clothing industry and lower fuel prices due to developments in the oil price. By contrast, underlying inflation, which excludes the most extreme price changes, increased in 11 UK regions, with only London recording a reduction in underlying inflation. The broad-based increase in underlying inflation led to a 0.3 percentage point increase in the national figure, to 1 per cent in April. This is consistent with headline CPI inflation of around 2 per cent in the 12 months to April 2021.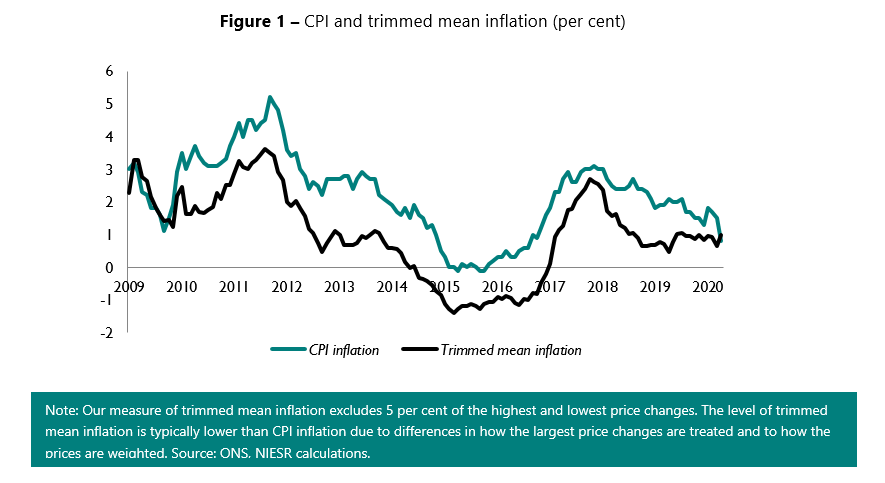 Main points
Underlying inflation increased by 0.3 percentage points to 1 per cent in the year to April 2020, as measured by the trimmed mean, which excludes 5 per cent of the highest and lowest price changes (figure 1).
At the regional level, underlying inflation was highest in the North at 2.7 per cent and lowest in London which saw a reduction of 0.2 per cent in the year to April 2020 (table 1).
34.8 per cent of goods and services prices changed in April, implying an average duration of prices of 2.9 months. 7 per cent of prices were reduced due to sales, 11.5 per cent fell for other reasons and 16.4 per cent were increases (figure 2).
The historical relationship between current trimmed mean inflation and future CPI inflation implies CPI inflation of 2.1 per cent in the year to April 2021.
"Headline CPI inflation decreased to 0.8 per cent in the year to April 2020, down from 1.5 per cent recorded in March. Our analysis of approximately 85,000 goods and services included in the basket indicates that lower prices in clothing and footwear, household services and transport categories contributed meaningfully to the moderation in inflation recorded in April. Our measure of underlying inflation, which excludes extreme price movements, increased to 1 per cent in April thanks to an increase in underlying inflation in 11 of the 12 UK regions. On this basis, we expect CPI inflation to settle around the Bank of England's target of 2 per cent in the coming year."
Janine Boshoff
Economist, Macroeconomic Modelling and Forecasting