Real Earnings Growth Returns to Pre-Referendum Rates but is Unlikely to Pick Up Any Further in the Near Term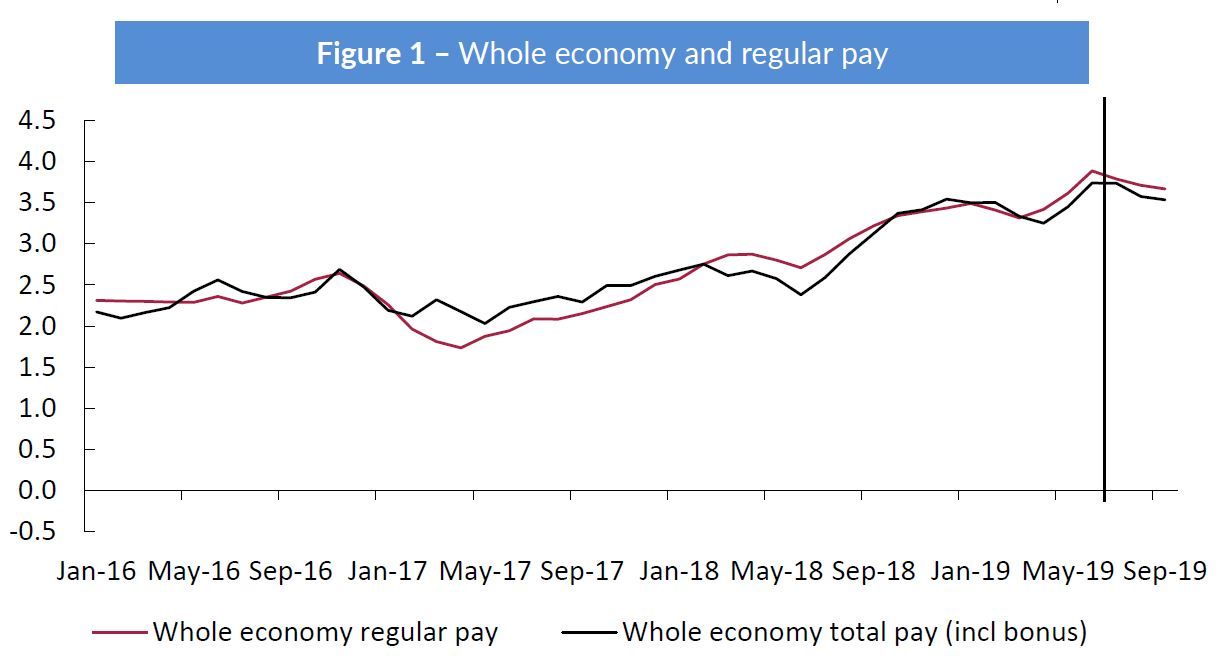 Main Points
According to new ONS statistics published this morning, UK average weekly earnings (AWE) expanded by 3.9 per cent excluding bonuses (3.7 per cent including bonuses) in the three months to June compared to the year before (figure 1).
With CPI inflation at 2 per cent in the second quarter of this year, real wages excluding bonuses grew at an annual rate of 1.9 per cent over the same period, the strongest rate of regular real earnings growth since May 2016.
June data outturns are in line with forecasts published in our Wage Tracker last month. Strong quarterly data is explained by April pay rises, with weaker quarter 1 data dropping out of the series; month-on-month earnings growth rates are considerably weaker, in particular in the public sector.
Going forward, the Wage Tracker indicates that regular pay growth will stabilise at around 3½ per cent in the third quarter of this year, reflecting a less tight labour market and survey evidence of a softening in hiring activity.
Based on NIESR Wage Tracker and weak GDP Tracker information, we estimate unit labour cost growth of nearly 4 per cent in the second of 2019 and above 3 per cent in the third quarter, up from just above 2 per cent in the first quarter This is likely to put upward pressure on consumer prices in the months ahead.
Dr Arno Hantzsche, Principal Economist in Macroeconomic Modelling and Forecasting, said "While real earnings growth has now returned to pre-referendum rates, the labour market appears to be reaching a turning point, with unemployment no longer falling, the number of job vacancies no longer increasing and companies and workers deterred from bigger employment decisions by Brexit and global uncertainties."
Please find the full commentary in attachment