The U-shape recovery of the labour market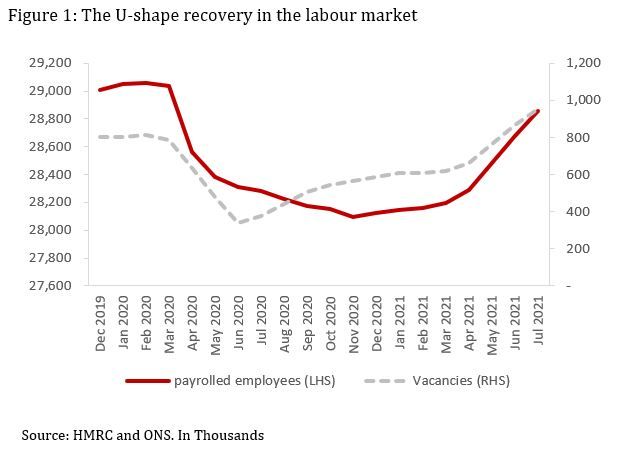 Main points
The labour market recovery is in a U shape, with the number of payrolled employees higher than in April 2020 and the number of vacancies at a record high of 953,000.
A robust growth of labour demand and limited candidate availability are creating temporary labour shortages in some industries like health and social work, finance and insurance, and public administration.
Employment fell during the pandemic because people dropped out of the labour force.
Average weekly earnings should ease from 8.8 per cent in the second quarter to 5.5 per cent in the third quarter as base effect dissipates.
Underlying wage growth which excludes base and compositional effects increased to 4.0 per cent in the three months to June, up from 3.8 per cent in the three months to May.
"The U-shaped recovery in the labour market is causing labour shortages in some industries like health and social work and wage inflation. Underlying wage growth increased to 4 per cent in the three months to June. With consumer price inflation rising and expected to reach also 4 per cent at the beginning of next year, there is a risk that price inflation feeds into wage inflation. The Bank of England should monitor the situation carefully to prevent in a wage-price spiral."
Cyrille Lenoel, Principal Economist, NIESR