Real pay growth to strengthen at start of 2020​
 
Figure 1 - Average weekly earnings growth (per cent per annum)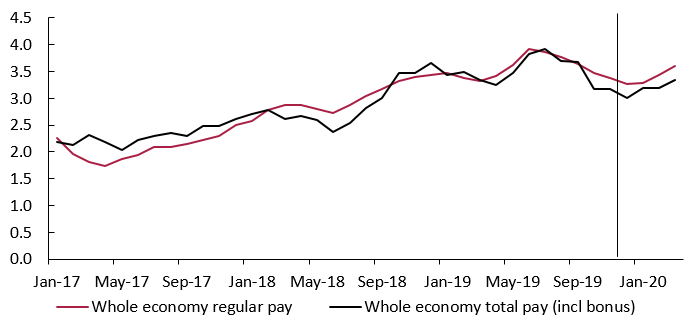 Main points
According to new ONS statistics published this morning, UK average weekly earnings (AWE) expanded by 3.4 per cent excluding bonuses in the three months to November compared to the year before, and by 3.2 per cent if bonus payments are taken into account (figure 1).
Earnings growth in the public sector was in line with forecasts published in our Wage Tracker one month ago while private sector outturns were again marginally weaker than forecast.
With CPI inflation at 1.6 per cent in the three months to November, real wages grew at an annual rate of 1.8 per cent over the same period excluding bonus payments (1.6 per cent including bonuses).
The Wage Tracker indicates that nominal earnings growth excluding bonuses will have been 3.3 per cent in the fourth quarter of 2019 and is expected to remain around 3½ per cent in the first quarter of 2020.
Based on NIESR Wage Tracker and GDP Tracker information, we estimate unit labour cost growth eased to around 3 per cent per annum in the fourth quarter and is expected to stay at this rate in the first quarter of 2020.
Dr Arno Hantzsche, Principal Economist in Macroeconomic Modelling and Forecasting, said: "As expected, earnings growth continued to soften a little towards the end of last year but employees should see 2020 start with stronger real pay growth as demand for workers is holding up, inflation eases and upratings in the National Living Wage and minimum wages will benefit those on low incomes."
You can read the full analysis in the attached document