Private Sector Pay Weakening as Pay Falls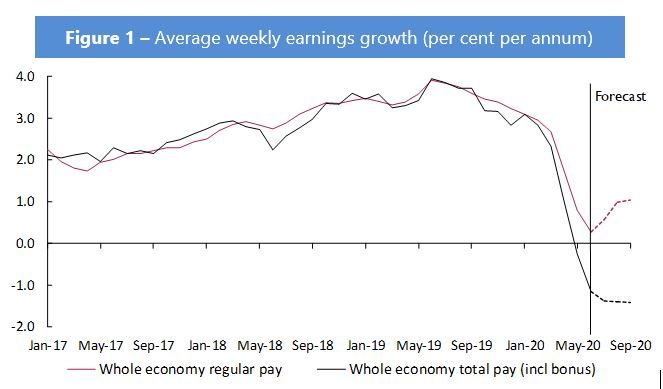 Main points
According to new ONS statistics published this morning, average weekly earnings, excluding bonuses, grew at an annual rate of 0.7 per cent in the three months to May, or around zero in real terms.  
More up to data information from HMRC's real time information indicates that median pay rose by £32 per month in June after falling in the previous two months, partly as a result of fewer lower paid employees joining the workforce.  Employment fell by 760 thousand between February and June.
There is a recent disparity between pay growth in the public and private sectors. Regular annual pay growth was zero in the private sector and 3.7 per cent in the public sector in the three months to May. The difference partly reflects greater use of furloughing in the private sector.
Earnings are being affected by furloughing, with over half of furloughed employees receiving 80 per cent of their normal pay (up to £2,500 per month). 
Average weekly earnings, excluding bonuses, are set to rise by 0.3 per cent in the second quarter and pick up by 1.0 per cent in the third quarter as furloughed workers return to work and some lower paid workers become unemployed.
"Pay growth in the private sector has fallen, but may flatten off for a time as workers return from furlough before weakening further in the second half of the year when unemployment is set to rise sharply."
Garry Young, Deputy Director