Public sector earnings growth provides a temporary boost to whole-economy wages
Main points
According to new ONS statistics published this morning, UK average weekly earnings (AWE) expanded by 3.1 per cent including bonuses (3.4 per cent excluding bonuses) in the three months to April compared to the year before (figure 1).
With CPI inflation at 2 per cent in the three months to April, real wages grew at an annual rate of 1.2 per cent over the same period, a slowdown on recent months (figure 2).
Private sector earnings data for April was nearly identical to what our monthly Wage Tracker suggested last month. But April saw stronger than anticipated wage rises in the public sector, leading to a catch-up of public sector earnings growth with that in the rest of the economy. As a result, whole-economy earnings growth was slightly stronger than we had expected.
Going forward, our monthly Wage Tracker suggests that regular pay growth will stabilise at around 3½ per cent in the second quarter of this year (figure 3). With CPI inflation stabilising at around 2 per cent, this points to annual regular real pay growth of around 1½ per cent in the first half of 2019.
Arno Hantzsche, senior economist at NIESR, said "A boost to wage growth in April came from the public sector where earnings picked up after a decade of pay restraint. It offset some of the emerging weaknesses in the private sector where pay growth is stabilising as a result of Brexit and global uncertainties."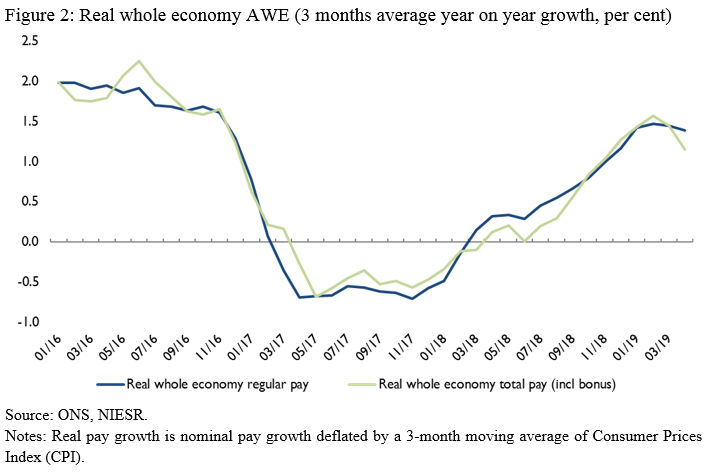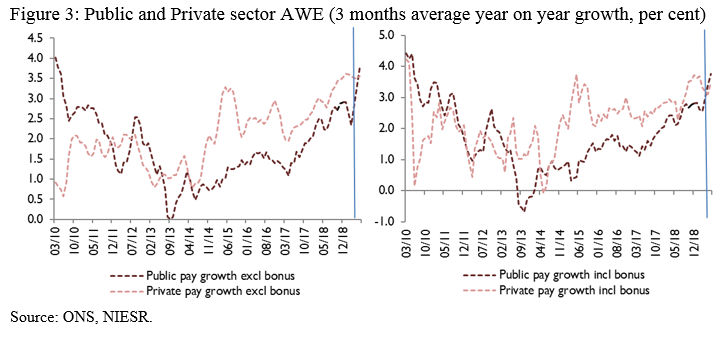 Please find the full commentary in attachment.