First Signs of Severe Labour Market Impact of Covid-19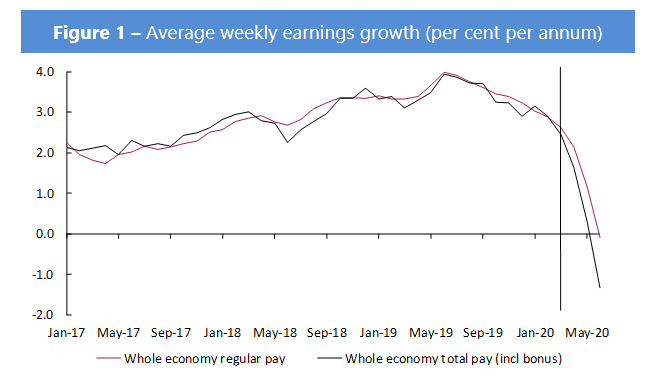 Main Points
Official labour market statistics are mainly lagging indicators and are only just beginning to show the impact of Covid-19 which started to affect the UK economy from around the middle of March. 
According to new ONS statistics published this morning, employment was at a record high in the first three months of the year and average weekly earnings, excluding bonuses, were growing at an annual rate of 2.7 per cent, or around 1 per cent in real terms.
But in the final week of March, the total number of hours worked was around 25% smaller than in other weeks within the quarter. This reflects the large number of people being furloughed.  Furloughing has helped to limit the rise in unemployment.  The unemployment claimant count rose by 850,000 to 2.10 million in April.  The number of vacancies fell to 351,000 in April, from 750,000 in March. 
By early May a quarter of paid employees had been furloughed, with 80 per cent of their pay (up to £2,500 per month) being met by the government.  This will mean that measured average earnings will fall in the short term, reflecting the lower pay of those who have been furloughed.  An early sign of this was that median monthly pay fell by £55 in April to £1789 per month.
Garry Young, Deputy Director of NISER said:
"The extent of the economic fallout from Covid-19 is becoming clearer.  Many businesses are under severe financial pressure and are only able to retain staff because of the government's furlough scheme which is currently supporting 7½ million jobs. Despite this, claimant unemployment rose above two million in April, the highest level since 1996, and it is very likely that we will see falls in pay in the months ahead."
You can read the full analysis in the attached document.