Covid-19 Continues to Suppress Private Sector Pay

Pub. Date

Pub. Type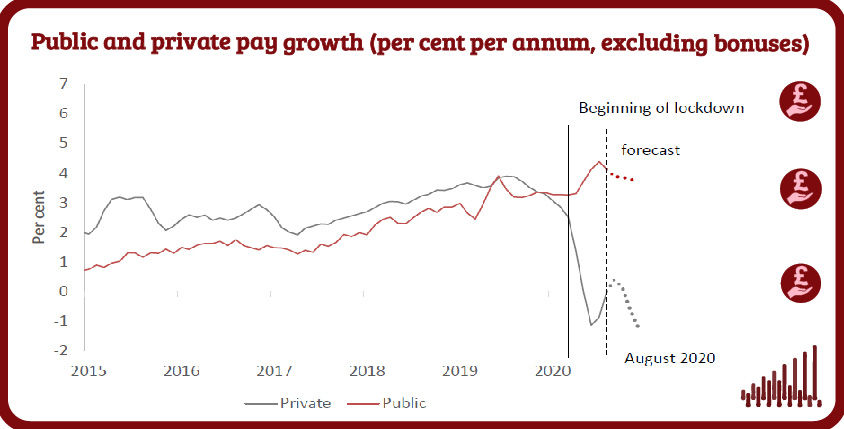 Covid-19 continues to suppress private sector pay
Main points
According to ONS statistics published this morning, average weekly earnings, including bonuses, were unchanged in the three months to August and declined by 0.8 per cent in real terms.
The construction sector was worst hit with pay growth declining by 5.3 per cent while public sector pay growth was up by 4.1 per cent.
Since the beginning of the pandemic, public sector wages have risen twice as fast as private sector wages (1.8 per cent vs 0.9 per cent from February to August)
We forecast average weekly earnings including bonuses (AWE) to increase by 0.5 per cent in the third quarter compared to a year ago, and to decrease by 0.8 per cent in the fourth quarter, resulting in little to no wage growth until the end of the year.
"The UK labour market is in a difficult transitory period with local lockdowns affecting nearly a third of the country and infection rates on the rise. Recent policy announcements such as the Job Support Scheme and the local furlough scheme are welcome steps to contain the fall in employment and provide some income support. But the multiplicity of job support schemes (CJRS, JSS, Job Retention Bonus and local furlough) and heightened risks related to Covid-19 limit the effectiveness of these policies".
Cyrille Lenoël
Senior Economist, NIESR
Please find the full commentary in attachment