Baseline Emissions Footprint
Baseline emissions are a record of the greenhouse gases that have been produced in the past and were produced prior to the introduction of any strategies to reduce emissions. Baseline emissions are the reference point against which emissions reduction can be measured.
Baseline Year: 2019
Additional Details relating to the Baseline Emissions calculations:
Our baseline gives a pre-pandemic guide to our emissions; our premises was fully occupied and in use 5 days a week. We have not recorded emissions prior to this date and have used The Carbon Trust's calculator to determine our total emissions based on Scope 1 and Scope 2 spend in 2019.
Baseline year emissions:
EMISSIONS TOTAL (tCO2e)
Scope 1: 1,375
Scope 2: 2,167
Total Emissions: 3,542
Current Emissions Reporting
Reporting Year: 2021*
EMISSIONS TOTAL (tCO2e)
Scope 1: 848
Scope 2: 991
Total Emissions: 1,838
*Emissions lower than 2019 due to building being unoccupied during periods in 2021
Emissions reduction targets
To continue our progress to achieving Net Zero, we have adopted the following carbon reduction targets.
• NIESR is targeting net zero emissions by 2050
• NIESR aims for a 40% reduction in its Scope 1 and Scope 2 emissions (from baseline) by 2035
We project that carbon emissions will decrease over the next five years to 3294 tCO2e by 2026. This is a reduction of 7% from baseline.
Progress against these targets can be seen in the graph below (usage fell during the pandemic and we do expect this to rise):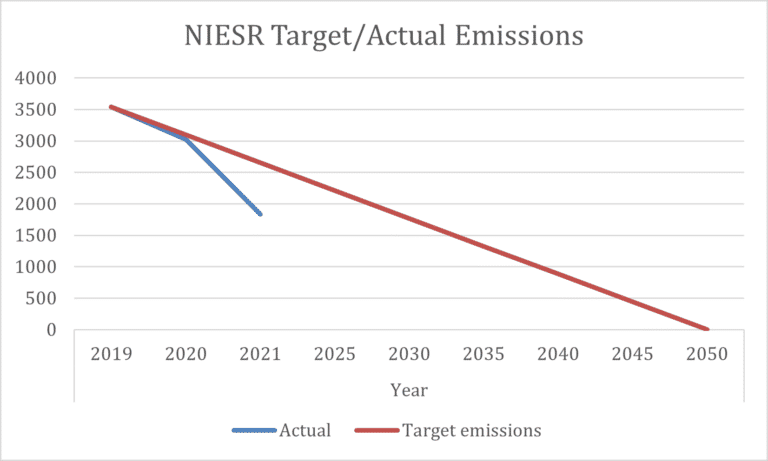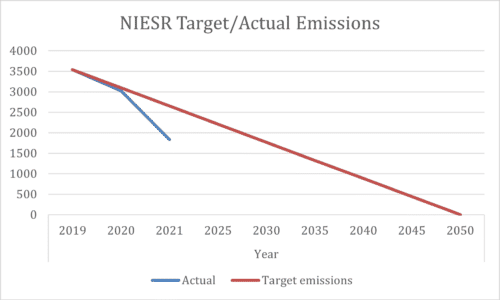 Carbon Reduction Projects
Completed and ongoing Carbon Reduction Initiatives
• We have installed a more energy efficient boiler and repaired our roof to reduce heat loss
• Closed access to one floor of our building, reducing electricity use
• Flexible working policies are now in place, reducing the use of gas, electricity, and water
Declaration and Sign Off
This Carbon Reduction Plan has been completed in accordance with PPN 06/21 and associated guidance and reporting standard for Carbon Reduction Plans.
Emissions have been reported and recorded in accordance with the published reporting standard for Carbon Reduction Plans and the GHG Reporting Protocol corporate standard and uses the appropriate Government emission conversion factors for greenhouse gas company reporting .
Scope 1 and Scope 2 emissions have been reported in accordance with SECR requirements.
This Carbon Reduction Plan has been reviewed and signed off by the Senior Management Team, NIESR
Helen Finely, Chief Financial Officer
3rd February 2022