Year Ends With Softer Pay Growth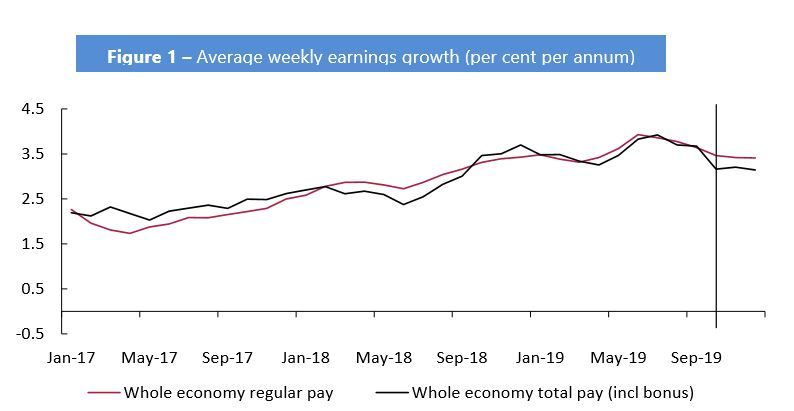 Main points
According to new ONS statistics published this morning, UK average weekly earnings (AWE) expanded by 3.5 per cent excluding bonuses in the three months to October compared to the year before (figure 1).
Total earnings growth including bonuses was 3.2 per cent over the same period, with the drop relative to the previous quarter being explained by higher than usual bonus payments in October 2018 but normal bonus contributions in the same month this year.
With CPI inflation at 1.6 per cent in the three months to October, real wages grew at an annual rate of 1.8 per cent over the same period excluding bonus payments (1.5 per cent including bonuses).
The Wage Tracker indicates that nominal earnings growth excluding bonuses will have been around 3½ per cent in the fourth quarter of 2019, and just above 3 per cent if bonus payments are taken into account.
Based on NIESR Wage Tracker and GDP Tracker information, we estimate unit labour cost growth picked up to more than 3½ per cent per annum in the fourth quarter, higher than what new ONS estimates suggest unit labour cost growth has been for the last two years.
Dr Arno Hantzsche
Principal Economist in Macroeconomic Modelling and Forecasting
"Earnings growth has softened slightly in recent months. With the general election removing some of the political uncertainty, there is a chance for a renewed pick-up in pay dynamics as we enter the new year. But with real wage growth outpacing productivity improvements and unit labour cost growth elevated, such a pick-up would unlikely be sustained."
You can read the full analysis in the attached document