2020 Shaping Up to be the Worst Year for Total Pay Growth Since 2009

Pub. Date

Pub. Type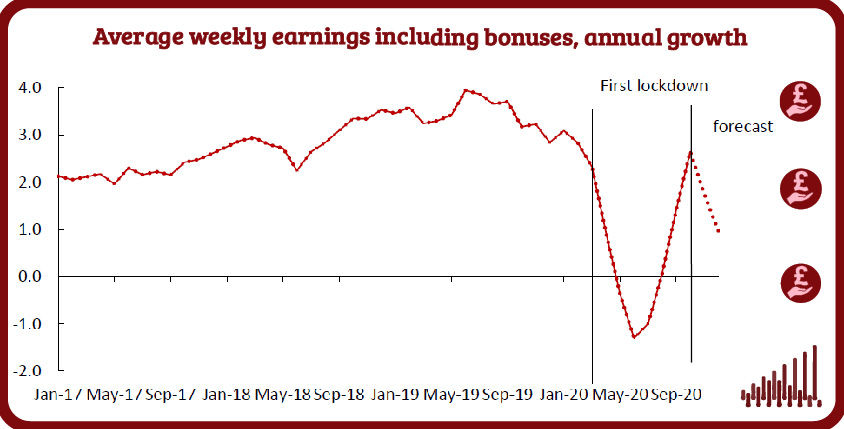 2020 shaping up to be the worst year for total pay growth since 2009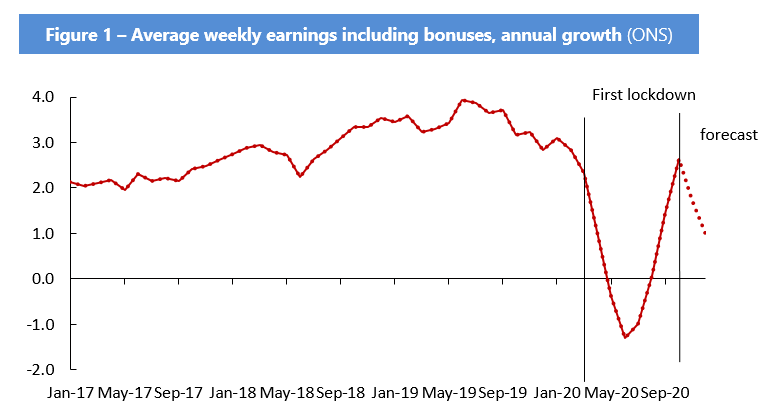 Main points
According to ONS statistics published this morning, average weekly earnings, including bonuses (AWE), were 2.7 per cent in the three months to October and 1.9 per cent in real terms in Great Britain.
Average pay growth was largest in the finance and businesses sector at 4.6 per cent and lowest in the construction sector at -2.2 per cent.
The recently announced pay freeze for half of public sector workers will reduce the growth rate of public sector pay that has been growing faster than private sector pay since the beginning of the pandemic.
The November lockdown in England and continued uncertainty regarding the pandemic has put downward pressure on private sector pay as the number of furloughed workers probably increased for the first time since April.
The National Living Wage will increase by 2.2 per cent to £8.91 an hour from April 2021 in line with the Low Pay Commission's recommendation.
We forecast average weekly earnings including bonuses to increase by 1.0 per cent in the fourth quarter of 2020.
"2020 will probably end up being the worst year for total pay growth since 2009. Pay freeze for a large part of the labour force, in addition to lost income during the time spent in furlough have put more strain on the labour market than the modest rise in unemployment suggests. Even with rollout of an effective COVID-19 vaccine, the recovery in the labour market will take time".
Cyrille Lenoël
Senior Economist, NIESR
Please find the full commentary in attachment