NIESR Analysis Ahead of the Summer Statement: Keep Doing 'Whatever it Takes'

Pub. Date

Pub. Type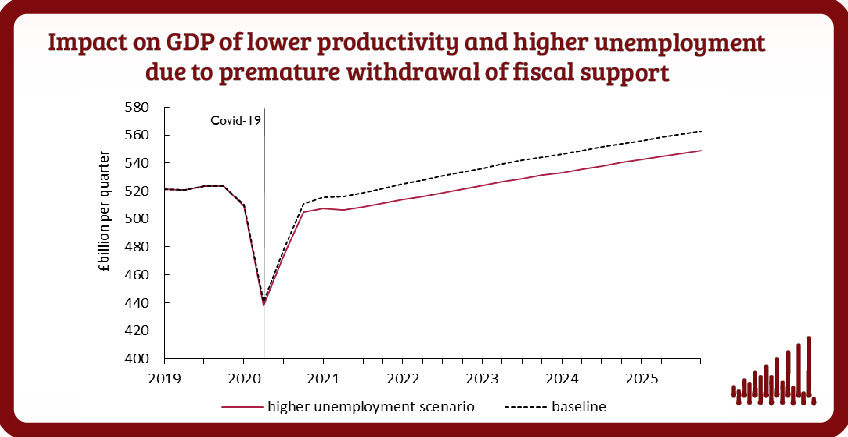 Executive Summary
The Chancellor should extend the government's jobs furlough scheme, ideally until GDP is back to its pre-Covid 19 level.  The scheme has been highly successful in protecting over 9 million jobs over this period and continues to support around 6 million furloughed workers.
 
Premature withdrawal of support could lead to higher long-term unemployment and lower productivity.  This could be more costly in the long run.  An illustration of this where productivity was permanently lower by 1 per cent and unemployment higher by 1 per cent would lead to GDP being about 2.5 per cent lower than it would otherwise be, leading to the need for higher tax rates to make up for lost revenue.  This would amount to a permanent loss of GDP of £50 billion per annum (as of 2022) or £750 per person
 
The UK should take advantage of the fact that additional borrowing is easily financed at very low interest rates.
 
The priority for a new round of spending should be to bring forward as quickly as possible spending already promised as part of the government's levelling up agenda.
 
Announcing in advance a reduction in Stamp Duty on property purchases in the autumn would encourage buyers to defer house purchases until then, damaging the housing market in the short term.
 
Offering vouchers or a reduced rate of VAT for spending in bars and restaurants will not be the most effective way of helping a sector for which the problem is not a lack of demand but an inability to meet existing demand safely.
Read the full document here: "NIESR Analysis Ahead of the Summer Statement: Keep Doing 'Whatever it Takes'"