The regional distribution of destitution from the Covid-19 crisis

Pub. Date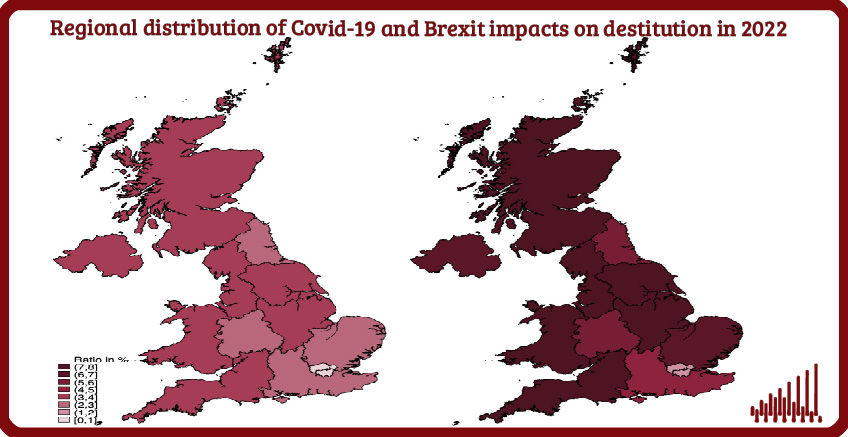 There is a growing awareness that big shocks such as Covid-19 and Brexit amplify existing inequalities. A plea for engaged research-driven policy debate directed at the 'levelling-up' agenda was the focus of the previous Review together with impacts of the Covid-19 shock upon UK population in destitution.
Following our previous study, we use NIESR's microsimulation model LINDA (NIESR, 2016)  together with the quarter's updated projections from NIESR's global macroeconomic model NiGEM (NIESR, 2018), to obtain destitution projections at the national and regional level to the year 2022. Our model incorporates the impact of the UK government's job support scheme in all its current varieties and the impact of an FTA Brexit.
The impacts from Covid-19 and Brexit on destitution are modelled as arising from three sources: (a) persons losing their livelihood (unemployment), where this impact is moderated by the government's job support schemes; (b) persons employed in jobs suffering reduced income and thereby pushed into destitution; and (c) self-employed persons moved to extreme poverty either because of income loss or because their businesses are not being sufficiently supported by the government's small business schemes.
Professor Adrian Pabst, NIESR Deputy Director, said: "Covid-19 is having devastating consequences for the poorest people in our society. Reinforced by the November lockdown, the pandemic will lead to a significant rise in levels of destitution across the country, particularly in places that have struggled for decades. Public policy targeted at the most disadvantaged people is needed to avoid deep social scarring."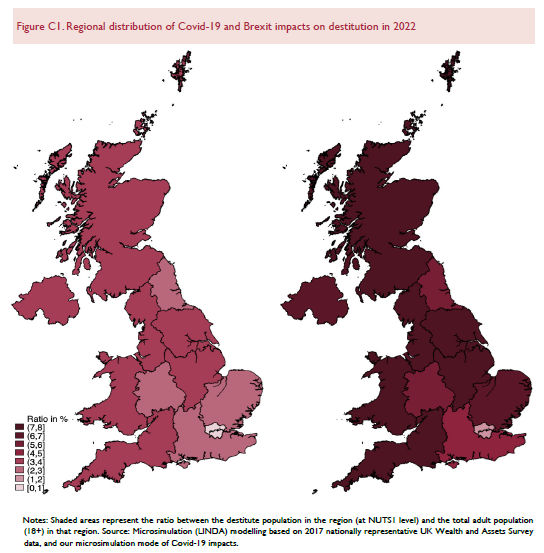 You can access the full analysis just clicking on the pdf file at the top of the page.