Press Release: NIESR Monthly Covid Tracker – New Cases declining again after school spill-over

Post Date

News Type

Reading Time
2 min read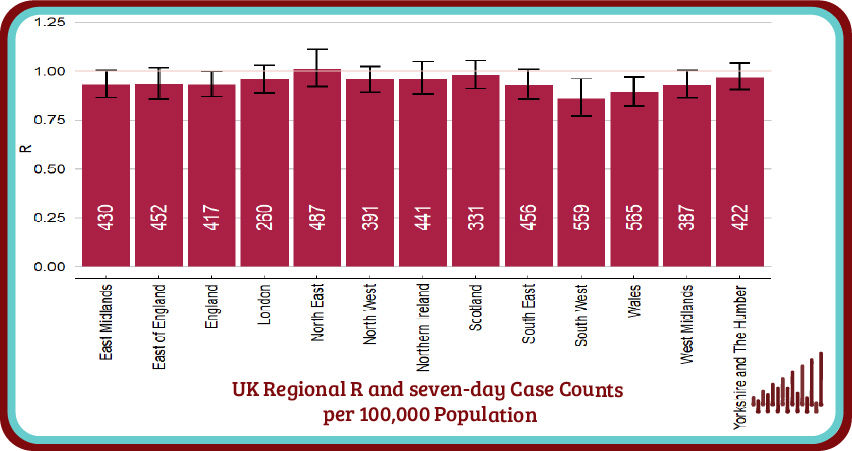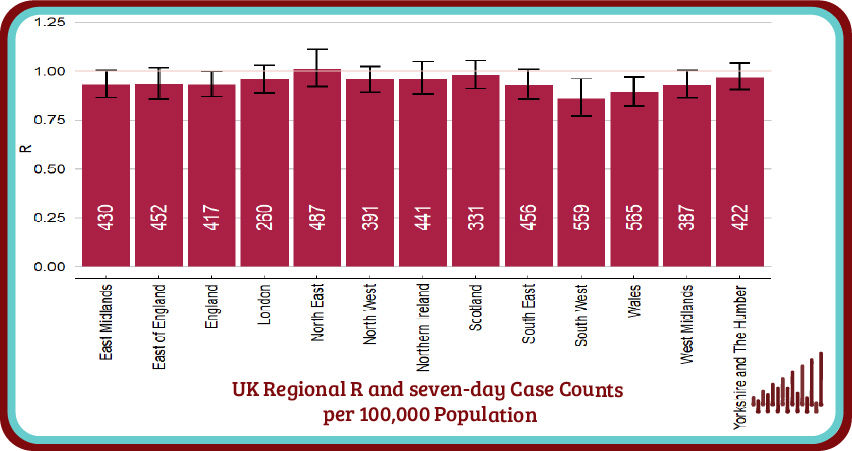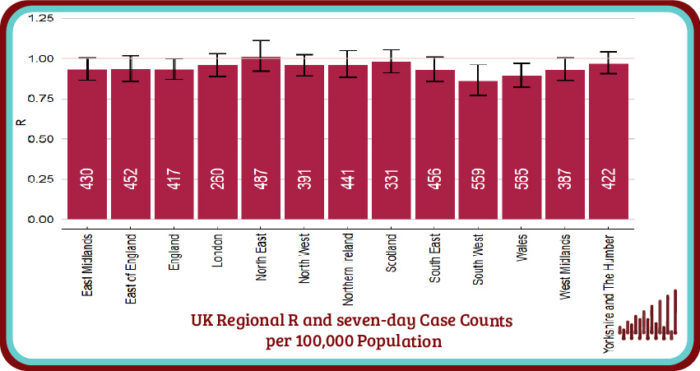 Main points
We report R estimates and forecasts of new cases, hospital admissions and deaths for the nations and regions.  The next tracker will be released on 2nd December.
The R number remains below 1 in all UK nations and English regions except the North East (Figure 1).
Looking at the trajectory of new cases across different age brackets for England we observe a noteworthy compositional change relative to the forecasts made four weeks ago. We highlighted then that cases in the school aged population were likely spilling over into the adult population. Now, both the 10-19 and over 40 age groups are expected to decline over the coming two weeks whilst they were forecast to be flat or increasing previously (Figure 2).
When the compositional change is netted out, new Covid-19 cases are forecast to decline in all English regions apart from the North East (Figure 3). Decreases can be expected in all UK nations (Figure 4).
Hospital admissions are forecast to increase modestly. This represents a change from our previous forecast which had modest declines in admissions (Figure 5). Trend deaths are forecast to remain constant (Figure 6).
The proportion of those over 12 who have received their first vaccination dose is now 87 per cent; 80 per cent have received their second dose as well. This summary figure conceals important heterogeneity across age brackets (Figure 7). Encouragingly, more than 50 per cent of those between 18 and 30 are now fully vaccinated.
"Hospital admissions are forecast to increase modestly in the coming weeks whilst deaths remain in the range they are currently despite the uptick in new cases observed through October. In terms of new cases, the recent increase among children in England due to schools reopening have spilled over into the adult population. However, four weeks on from our last tracker when we were forecasting increases in cases for those aged 40-64 we are now forecasting reductions. In addition, we had forecast modest increases in those aged 10-19 but are now forecasting a decrease."
Dr Craig Thamotheram
Senior Economist – Macroeconomic Modelling and Forecasting
---
Notes for editors:
For further information please contact the NIESR Press Office: press@niesr.ac.uk or
Luca Pieri on l.pieri@niesr.ac.uk / 0207 654 1954