Press Release: NIESR Monthly GDP Tracker – Activity nears pre-Covid levels but faces headwinds

Post Date

News Type

Reading Time
2 min read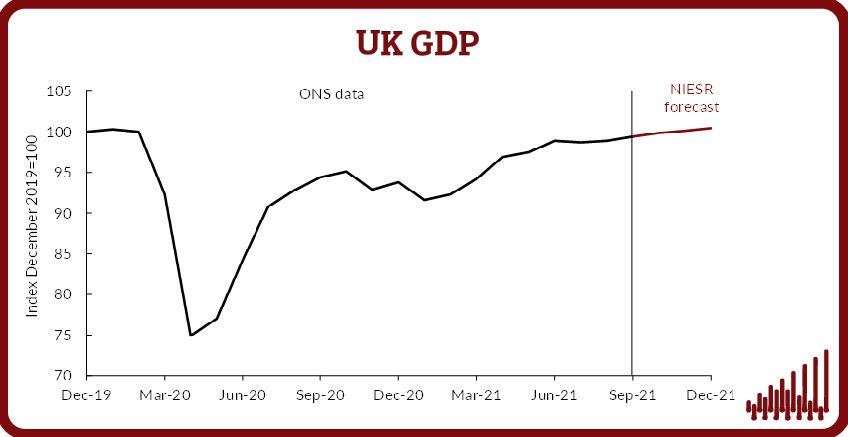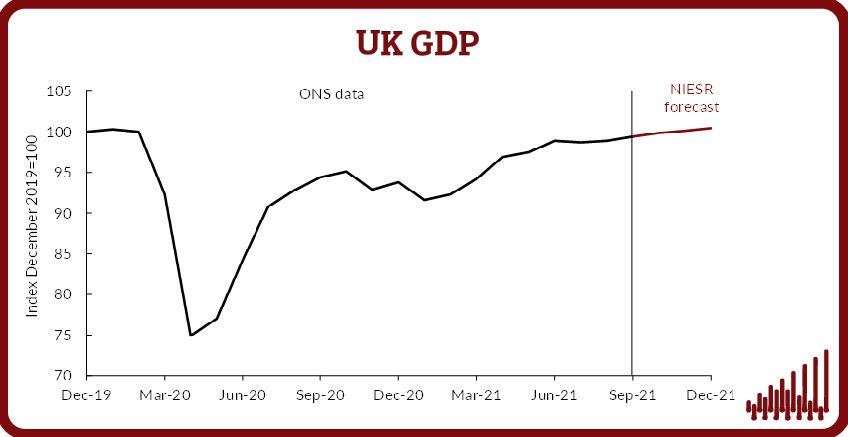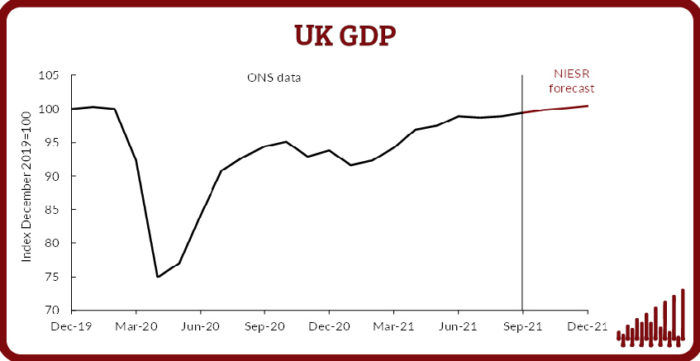 Figure 1 – UK GDP
Main points
With growth slowing in the third quarter, but September stronger than expected, we now forecast economic activity to increase by 1.1 per cent in the last quarter of 2021, including month-on-month growth of 0.4 per cent in October.
The end of the post-Covid bounce in consumer services has removed one source of upward momentum but goods and labour shortages have taken over as a brake on growth. Most of September's 0.6 per cent growth came from the largely nonmarket healthcare sector.
Government estimates of the present level of GDP differ. The output-based approach, as used in NIESR's GDP Tracker, suggests GDP in the third quarter of 2021 was 1 per cent below its pre-Covid level, while the expenditure approach suggests the shortfall is 2 per cent. Using the output-based measure we expect monthly GDP to return to its pre-Covid February 2020 level in November this year.
"Of the 0.6 per cent monthly growth 0.5 percentage points was attributed to the health sector, largely due to the return of face-to-face GP appointments. The post-Covid bounce seems to be nearing its end, with hospitality returning to normal growth rates in September after a bumper August. Wholesale and retail activity shrank for a fifth consecutive month and gas distribution for the fourth, which may suggest supply constraints or the unwinding of unusually high demand earlier in the year. Overall growth is likely to slow further in the fourth quarter but will benefit if public confidence in keeping Covid-19 under control has enabled a return to growth in consumer-facing services sectors."
Rory Macqueen, Principal Economist, NIESR
ENDS
———————————–
Notes for Editors
For further information or to arrange interviews, please contact the NIESR Press Office: press@niesr.ac.uk  or Luca Pieri on l.pieri@niesr.ac.uk  / 020 7654 1954