Press Release: NIESR Monthly GDP Tracker – Strong start to second quarter driven by re-opening

Post Date

News Type

Reading Time
2 min read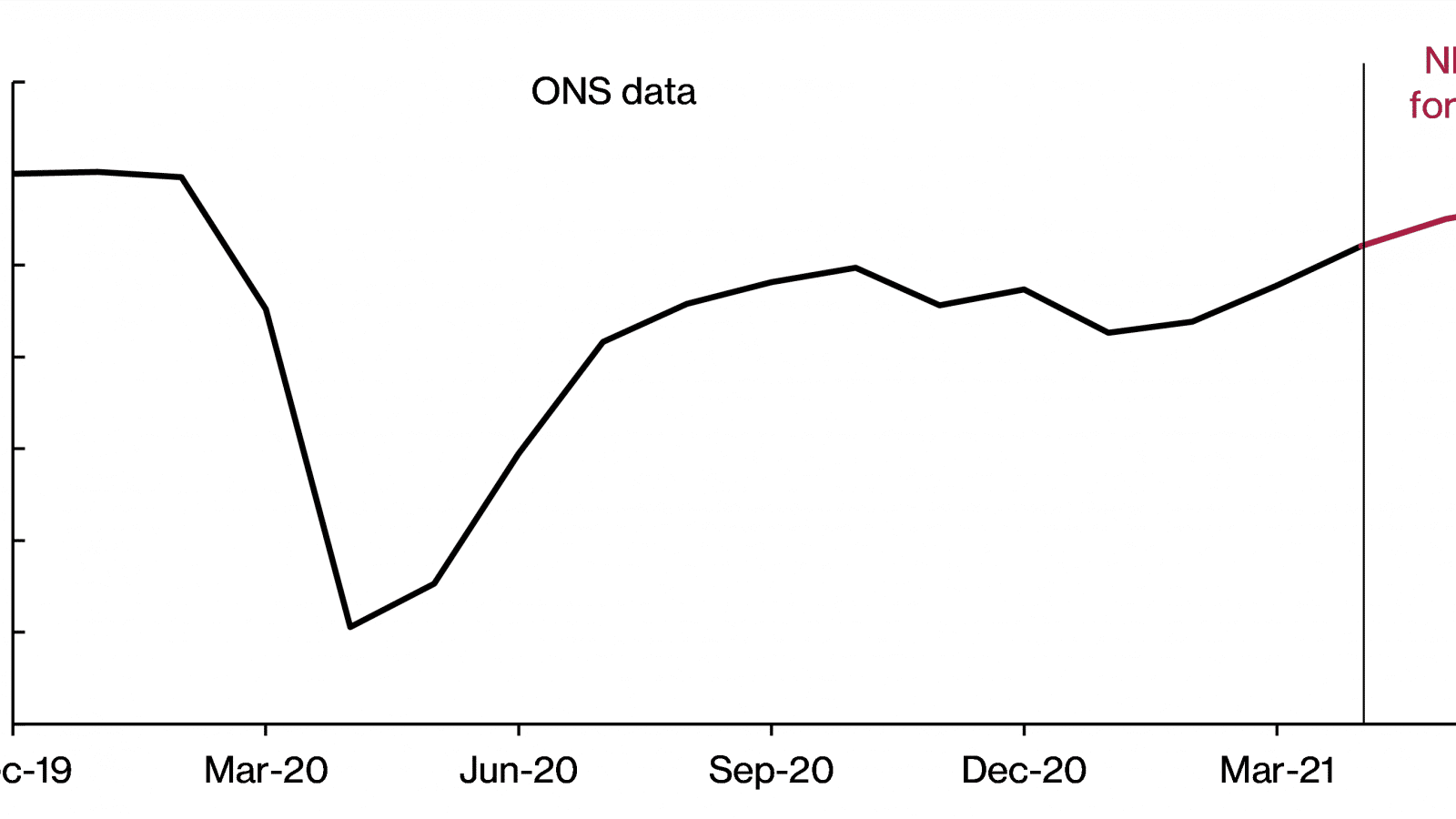 Strong start to second quarter driven by re-opening
Figure 1 – UK GDP
Main points
Another month of rapid service sector growth in April was driven by the re-opening of sectors affected by Covid-19 restrictions, resulting in a 2.3 per cent growth in monthly GDP almost in line with our May Tracker forecast. We expect the recovery to have continued in May and June, forecasting monthly growth of 1.5 per cent and 0.9 per cent respectively.
Expansion in April was driven by the retail and education sectors, with manufacturing and construction declining. We expect retail and hospitality to contribute significantly to growth in May.
This leads us to slightly revise up our forecasts for the second quarter of 2021 to 5.3 per cent, the fastest quarterly growth rate since the summer of last year and the initial recovery phase after the Covid-19 shock.
While the lifting of restrictions has helped return the economy overall to just 3.7 per cent below its pre-Covid peak, some sectors remain badly affected. In April hospitality was still 40 per cent below its level in February 2020 while arts and recreation was down by more than 30 per cent. Postponing the last step of re-opening may delay the recovery in arts and recreation by a few weeks but, if it helps avoid a third wave of infections, it could contribute to sustained recovery in the second half of the year.
Rory Macqueen, Principal Economist – Macroeconomic Modelling and Forecasting, said: 
"Like March, April was a month of rapid growth in services output, as anticipated, driven by the re-opening of non-essential retail, outdoor hospitality and near-full attendance in schools. May will follow a similar pattern, as further restrictions are lifted, as will June if the final step of the roadmap goes to plan. But falls in construction and production, which were less affected by the 2021 lockdown, remind us that our focus should now be on the prospects for the economy in the second half of the year, after temporary re-opening effects have ceased to provide strong monthly increases."
Please find the full analysis in the attached document. 
———————————————————————
Notes for editors
For further information please contact the NIESR Press Office (press [at] niesr.ac.uk) or Chloe Ridyard on c.ridyard [at] niesr.ac.uk  or  02076541957
National Institute of Economic and Social Research
2 Dean Trench Street
Smith Square
London, SW1P 3HE
United Kingdom
Switchboard Telephone Number: 020 7222 7665
Website: http://www.niesr.ac.uk