Press Release: NIESR Monthly Wage Tracker – Inflation and Tax Rises Will Erode Record Earnings Growth

Post Date

News Type

Reading Time
2 min read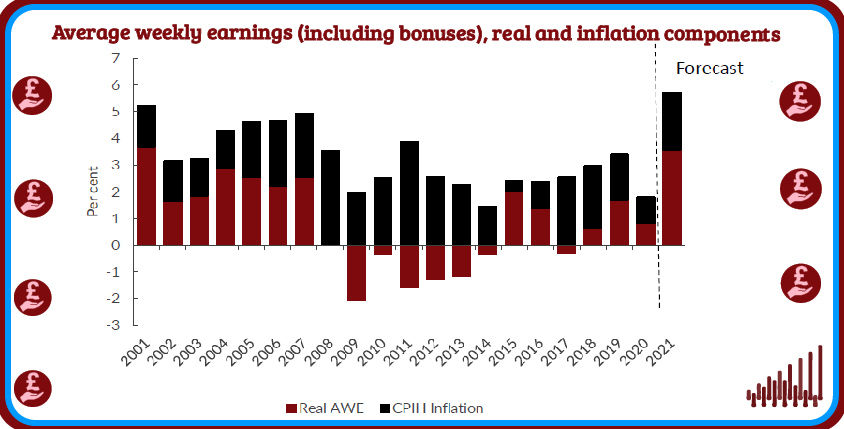 Main Points
We expect weekly earnings annual growth to average 5.7 per cent in 2021 – the highest in two decades – and 3.6 per cent in real terms, after 1.8 per cent (nominal) and 0.8 per cent (real) in 2020.
The strength of AWE is explained by high bonuses, robust public sector pay growth and a cyclical recovery exaggerated by compositional effects and increased weekly average hours due to the end of furlough.
The growth rate in average weekly earnings including bonuses (AWE) in Great Britain decreased in the three months to September to 5.8 per cent compared to a year ago, down from 8.8 per cent in the three months to June. This is in line with what we forecast last month and reflects a smaller impact of base effects.
We forecast average weekly earnings to decelerate further to 4.1 per cent in the fourth quarter as the base effect fully dissipates.
The rise in inflation will mean close to zero average real earnings growth next year if there is no significant increase in underlying wage growth.
8 out of 10 people who became unemployed during the pandemic have returned to employment, but some of them in temporary or zero-hours contracts.
Figure 1: Average weekly earnings (incl. bonuses), real and inflation component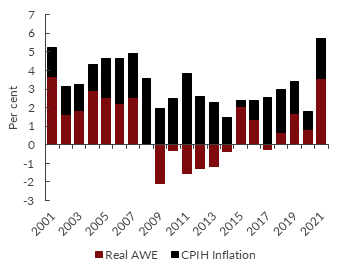 Source: ONS, NIESR calculations and forecast
"The exceptional real earnings gain of 3.6 per cent in 2021 is unlikely to last into next year because it reflects a combination of statistical effects (compositional and base effects). Unless there is an acceleration in underlying wage growth, rising inflation will reduce any real wage gains next year, and households' income will be further squeezed by the rise in national insurance contributions."
Cyrille Lenoël
Principal Economist, NIESR