Press Release: US and Euro Area not regaining their pre-Covid GDP levels until mid-2022 and mid-2023 respectively

Post Date

News Type

Reading Time
4 min read
Responding to the threat to public health, lockdowns have led to the deepest contraction in global economic activity since the Second World War, with global GDP in the second quarter 10½ per cent lower than six months earlier.
Activity indicators show a rise in global economic activity in the third quarter, supported by strong monetary and fiscal policy actions and some unlocking of restrictions. Despite this, our main-case scenario is for global GDP to fall by 4½ per cent this year.
With the virus still spreading, a strong and sustained global recovery depends on its control. Our main-case scenario does not anticipate global lockdowns of the scale seen earlier this year recurring, so that world GDP increases next year, by 5 per cent. However, the global economic outlook remains highly uncertain.
Even with this rise in output, GDP in advanced economies is forecast to remain below its pre-pandemic level until 2022 or later, with unemployment rising in many economies when pandemic-related employment support measures are lifted.  Control of the spread of the virus and its effects remains critical for economic recovery.
Policy interest rates have been reduced to almost zero in many advanced economies and public debt has risen sharply in both cash terms and as a share of GDP. The prospect is for this pattern to remain at least until the threat to public health had receded and economies have returned to sustained growth.
Against this background, and especially the recent resurgence of the virus in Europe, we have revised up our forecast for global GDP growth this year slightly from –5 per cent to –4½ per cent and slightly down for 2021 from 6¼ per cent to 5 per cent. Our central case outlook of a pick-up in economic growth without a substantial accompanying rise in inflation reflects the fact that even
by the end of 2021 GDP is expected to be lower in many economies than at the end of 2019. The fall in GDP this year will far outweigh the fall seen in the Great Financial Crisis, with a fall in global GDP of 4½ per cent this year (a loss in excess of $9 trillion of GDP relative to the projection we made a year ago), compared with a 0.1 per cent fall in 2009. The shortfall in GDP is illustrated
in figure 1.
Unemployment rates which had fallen gradually over a number of years have risen sharply, especially in the US (from 3.8 per cent in February to a peak of 14.7 per cent in April, although the rate has fallen to 7.9 per cent in September). One concern is that unemployment is yet to rise significantly in some other, particularly European, countries where job protection measures have been promoted by governments. Another is that when it does rise, it will be slow to fall back, as it was after the financial crisis, creating a scarring effect on jobs from the pandemic.
"Our main-case scenario sees a fall in global GDP of 4 1/2 per cent this year. Although we project an increase in world GDP of 5 per cent next year, many countries will not regain their pre-pandemic level of GDP until later. We anticipate the US regaining its pre-Covid GDP level in mid-2022 but the Euro Area may not be until mid-2023" said Barry Naisbitt, Associate Research Director for Global Macroeconomics at NIESR.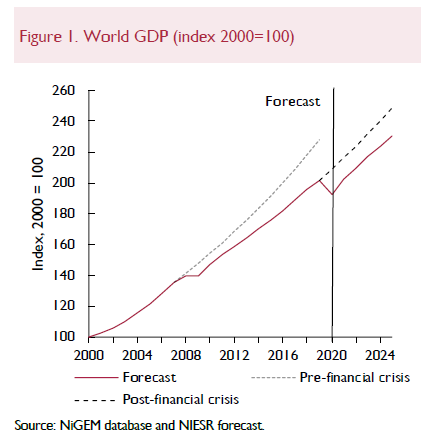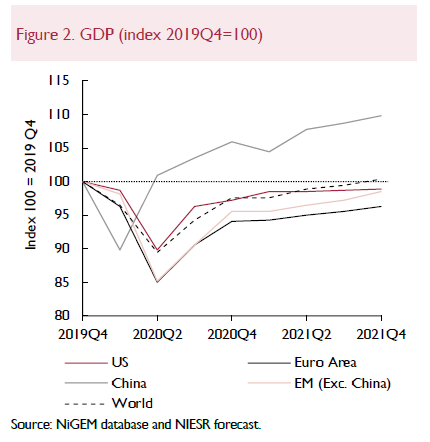 ENDS
——————————
Notes for editors:
The full forecast for the global economy will be published in the National Institute Economic Review no. 254 on Wednesday 4 November. Details of NIESR's previous global economic forecast can be found here.
For a full copy of the world economic forecast or to arrange interviews, please contact the NIESR Press Office: press [at] niesr.ac.uk / l.pieri [at] niesr.ac.uk / c.ridyard [at] niesr.ac.uk / 07930 544 631 / 07970 984913
For technical questions related to the forecast, please contact:
Iana Liadze on  

i.liadze

[at]

niesr.ac.uk

Barry Naisbitt on

b.naisbitt

[at]

niesr.ac.uk
The National Institute Economic Review is a quarterly journal of NIESR. From this issue the NIER is published by Cambridge University Press (CUP). Founded in 1534, CUP is the world's oldest publishing house and the second-largest university press in the world. The Review is published in February, May, August and November, and it is available from Cambridge University Press here. For enquiries please contact: journals [at] cambridge.org
Further details of NIESR's activities can be seen on http://www.niesr.ac.uk or by contacting enquiries [at] niesr.ac.uk  Switchboard Telephone Number: +44 (0) 207 222 7665