Largest Decline in Underlying Inflation Since the Start of the Pandemic

Pub. Date

Pub. Type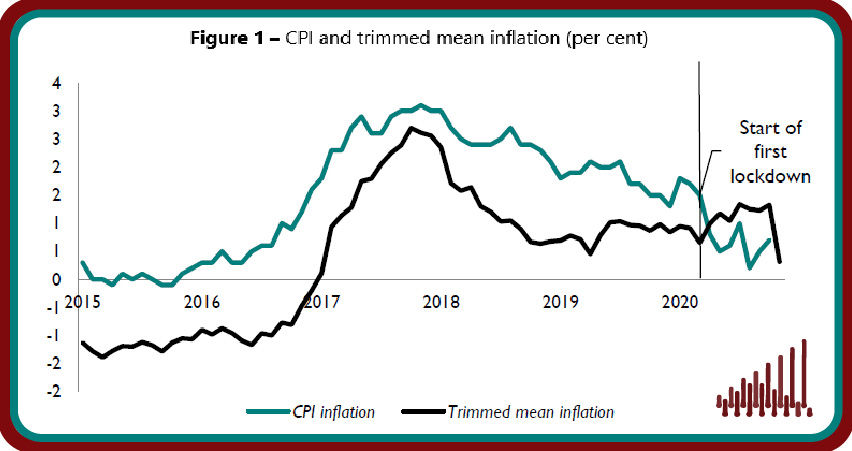 Largest decline in underlying inflation since the start of the pandemic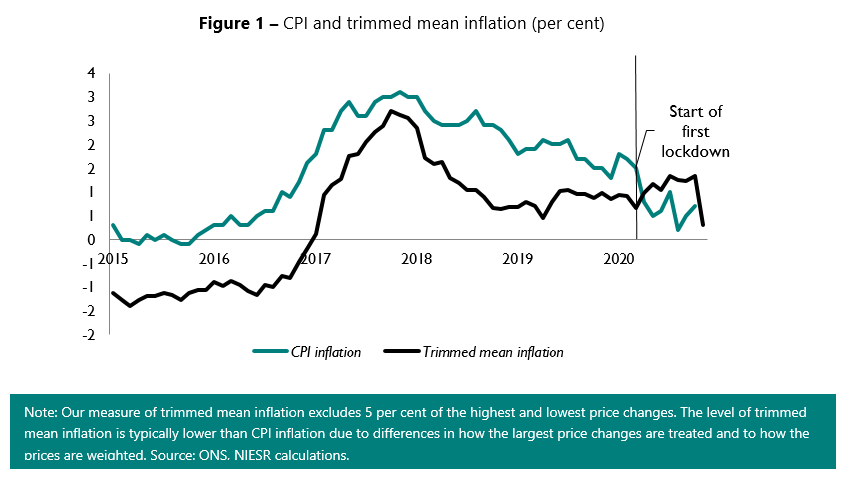 Main points
Underlying inflation displayed the largest fall since the start of the pandemic, decreasing by 1 percentage point to 0.3 per cent in the year to November 2020, as measured by the trimmed mean, which excludes 5 per cent of the highest and lowest price changes (figure 1).
At the regional level, underlying inflation was highest in Wales at 1.8 per cent and lowest in the East Anglia which saw a decrease of 0.5 per cent in the year to November 2020 (table 1).
26 per cent of goods and services prices changed in November, implying an average duration of prices of 3.9 months. 7.8 per cent of prices were reduced due to sales, 7.4 per cent fell for other reasons and 10.7 per cent were increases (figure 2).
We expect the downward pressure on inflation to continue in the short-term as we forecast the UK economy to contract in the fourth quarter of the year due to the effects of the November lockdown and increased stringency of restrictions.
CPI inflation is likely to gradually rise towards 2 per cent in the year to November 2021.
 
"The November lockdown is reflected in both headline and underlying inflation. Headline CPI inflation decreased to 0.3 per cent in the year to November 2020, down from 0.7 per cent recorded in October, reflecting lower prices in most of the categories during the month. Our measure of underlying inflation, which excludes extreme price movements, decreased to 0.3 per cent in November. Inflation is likely to remain subdued in the short-term as more stringent Covid-19 restrictions will weigh on already weak demand and labour market prospects."
Janine Boshoff
Economist, Macroeconomic Modelling and Forecasting
Please find the full analysis in the attached document